NYSE McClellan Oscillator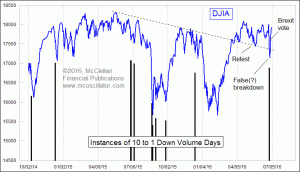 The panic over the surprise outcome in the British referendum over leaving the European Union brought about a fairly rare market event: a 10-1 down volume day. That means the amount of share volume in the stocks that were down that day (down volume) exceeded the up volume by more than a factor of 10.
We have only had 8 of these 10-1 down volume days in the past year, all associated with exhaustive selloffs. I say "associated with", because the day of the 10-1 down volume reading is not... Read More
NYSE: 07/01/2016
Issues
Volume(000s)
Advances
1945
2275889
Declines
1106
1070093
Difference
839
1205796
10% Trend
524
. 237
460795
5% Trend
380
. 679
283654
McC OSC
143
. 558
177141
PRIOR McC OSC
132
. 707
142897
SUMM Index
3514
. 763
1242267
PRIOR SUMM Index
3371
. 205
1065126
A-D for OSC UNCH
668
638 *
A-D for OSC=0
-2203
-2905 *

*million shares

DJIA Close
17949.37
PRIOR Close
17929.99
DJIA CHG
19.38
DOW Price OSC
6.66
PRIOR DOW Price OSC
-6.18
Price OSC UNCH'D
17730.37

Daily Oscillator Data
(.xls)
Extended Data
All of this data, plus a lot more, is available on our Daily Edition along with charts and analysis. See our Market Reports page to get the bigger picture.
Market Breadth Data Notes
We use WSJ/Barron's data for our final breadth numbers. Calculations made on numbers from other sources will show a slightly different result.
We wait until late in the day in order to have access to the "final" numbers.
This reflects final readings for the indicators covered.
Values for indicators calculated using preliminary numbers released just after the close usually differ slightly from these numbers.
We usually recommend that readers keep their own data for themselves, but this is a useful way to check and see if your numbers agree with ours.
Starting 3/8/2012:
NYSE Up Volume & Down Volume data will report composite trading volume.
3/7/2012 and before:
Reports NYSE floor trading volume, as has been our long standing practice.