NYSE McClellan Oscillator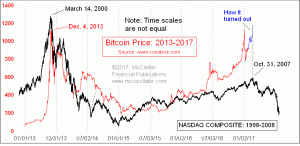 Bitcoin prices have burst out to a higher high, getting a lot of people excited. So I figured this was a good time for a follow up to my Jan. 26 Chart In Focus article.
That article a month ago illustrated the similarities between the price patterns in Bitcoin and the Nasdaq Comp from an earlier period. The chart above is the same one I showed in that earlier article, updated for how Bitcoin prices have behaved since then. One key point to observe is that the time scales for each plot... Read More
NYSE: 02/24/2017
Issues
Volume(000s)
Advances
1550
1403463
Declines
1442
2348091
Difference
108
-944628
10% Trend
258
. 350
76239
5% Trend
251
. 001
145503
McC OSC
7
. 350
-69264
PRIOR McC OSC
16
. 529
-13209
SUMM Index
3443
. 860
2078398
PRIOR SUMM Index
3436
. 511
2147662
A-D for OSC UNCH
266
7 *
A-D for OSC=0
119
1392 *

*million shares

DJIA Close
20821.76
PRIOR Close
20810.32
DJIA CHG
11.44
DOW Price OSC
277.51
PRIOR DOW Price OSC
269.00
Price OSC UNCH'D
20704.09

Daily Oscillator Data
(.xls)
Extended Data
All of this data, plus a lot more, is available on our Daily Edition along with charts and analysis. See our Market Reports page to get the bigger picture.
Market Breadth Data Notes
We use WSJ/Barron's data for our final breadth numbers. Calculations made on numbers from other sources will show a slightly different result.
We wait until late in the day in order to have access to the "final" numbers.
This reflects final readings for the indicators covered.
Values for indicators calculated using preliminary numbers released just after the close usually differ slightly from these numbers.
We usually recommend that readers keep their own data for themselves, but this is a useful way to check and see if your numbers agree with ours.
Starting 3/8/2012:
NYSE Up Volume & Down Volume data will report composite trading volume.
3/7/2012 and before:
Reports NYSE floor trading volume, as has been our long standing practice.