NYSE McClellan Oscillator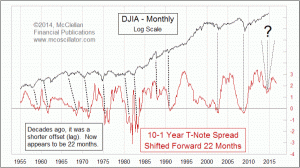 The Fed's fingerprints are all over the charts. Whether or not that is a good thing depends upon one's point of view.
The yield curve still matters, in spite of former Fed Chairman Ben Bernanke's 2007 assertions to the contrary. During testimony on February 14, 2007 before the Senate Banking Committee, the following interchange took place:
Senator Bunning: "You are telling us today that an inverted yield curve down the road will not affect the economy. Did I misunderstand that,... Read More
NYSE: 12/19/2014
Issues
Volume(000s)
Advances
2052
3944460
Declines
1132
1757653
Difference
920
2186807
10% Trend
164
. 413
330587
5% Trend
110
. 233
129977
McC OSC
54
. 180
200610
PRIOR McC OSC
12
. 845
102617
SUMM Index
1614
. 709
-505721
PRIOR SUMM Index
1560
. 529
-706331
A-D for OSC UNCH
219
531 *
A-D for OSC=0
-865
-3481 *

*million shares

DJIA Close
17804.80
PRIOR Close
17778.15
DJIA CHG
26.65
DOW Price OSC
92.22
PRIOR DOW Price OSC
84.40
Price OSC UNCH'D
17680.34

Daily Oscillator Data
(.xls)
Extended Data
All of this data, plus a lot more, is available on our Daily Edition along with charts and analysis. See our Market Reports page to get the bigger picture.
Market Breadth Data Notes
We use WSJ/Barron's data for our final breadth numbers. Calculations made on numbers from other sources will show a slightly different result.
We wait until late in the day in order to have access to the "final" numbers.
This reflects final readings for the indicators covered.
Values for indicators calculated using preliminary numbers released just after the close usually differ slightly from these numbers.
We usually recommend that readers keep their own data for themselves, but this is a useful way to check and see if your numbers agree with ours.
Starting 3/8/2012:
NYSE Up Volume & Down Volume data will report composite trading volume.
3/7/2012 and before:
Reports NYSE floor trading volume, as has been our long standing practice.