NYSE McClellan Oscillator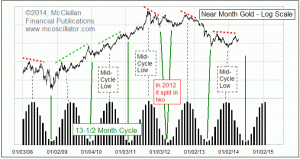 On the "blood red moon" day of April 15, gold had an impressive downturn which changed the whole picture for gold prices over the next few months.
Viewing one day's action on its own is a recipe for being misled. But viewing it in the right context is a great way to draw insights about what the future holds. And one of the most important contexts I have found for interpreting gold's price action is to put it into its proper place within the 13-1/2 month cycle.
I have written about... Read More
NYSE: 04/23/2014
Issues
Volume(000s)
Advances
1506
1448625
Declines
1608
1568495
Difference
-102
-119870
10% Trend
399
. 178
297988
5% Trend
316
. 327
208130
McC OSC
82
. 851
89858
PRIOR McC OSC
116
. 521
119023
SUMM Index
3417
. 604
1272585
PRIOR SUMM Index
3334
. 752
1182728
A-D for OSC UNCH
482
388 *
A-D for OSC=0
-1175
-1409 *

*million shares

DJIA Close
16501.65
PRIOR Close
16514.37
DJIA CHG
-12.72
DOW Price OSC
54.04
PRIOR DOW Price OSC
48.66
Price OSC UNCH'D
16415.15

Daily Oscillator Data
(.xls)
Extended Data
All of this data, plus a lot more, is available on our Daily Edition along with charts and analysis. See our Market Reports page to get the bigger picture.
Market Breadth Data Notes
We use WSJ/Barron's data for our final breadth numbers. Calculations made on numbers from other sources will show a slightly different result.
We wait until late in the day in order to have access to the "final" numbers.
This reflects final readings for the indicators covered.
Values for indicators calculated using preliminary numbers released just after the close usually differ slightly from these numbers.
We usually recommend that readers keep their own data for themselves, but this is a useful way to check and see if your numbers agree with ours.
Starting 3/8/2012:
NYSE Up Volume & Down Volume data will report composite trading volume.
3/7/2012 and before:
Reports NYSE floor trading volume, as has been our long standing practice.