NYSE McClellan Oscillator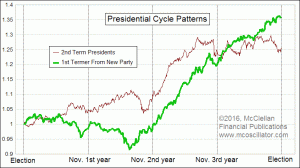 While the upcoming election is holding everyone's attention, it is appropriate to look at what might lie beyond. One important point to note is that there is a difference in the market's behavior depending on whether the incumbent party wins, or whether the new challenger party candidate wins.
The chart above shows two different versions of our Presidential Cycle Pattern, based on which type of president is in office. I don't mean which party, but rather the differentiation is over... Read More
NYSE: 10/24/2016
Issues
Volume(000s)
Advances
1803
1753162
Declines
1217
1517337
Difference
586
235825
10% Trend
68
. 853
100699
5% Trend
54
. 093
70735
McC OSC
14
. 760
29964
PRIOR McC OSC
-14
. 706
23639
SUMM Index
1408
. 091
437671
PRIOR SUMM Index
1393
. 331
407707
A-D for OSC UNCH
84
131 *
A-D for OSC=0
-212
-469 *

*million shares

DJIA Close
18223.03
PRIOR Close
18145.71
DJIA CHG
77.32
DOW Price OSC
-38.91
PRIOR DOW Price OSC
-42.61
Price OSC UNCH'D
18155.79

Daily Oscillator Data
(.xls)
Extended Data
All of this data, plus a lot more, is available on our Daily Edition along with charts and analysis. See our Market Reports page to get the bigger picture.
Market Breadth Data Notes
We use WSJ/Barron's data for our final breadth numbers. Calculations made on numbers from other sources will show a slightly different result.
We wait until late in the day in order to have access to the "final" numbers.
This reflects final readings for the indicators covered.
Values for indicators calculated using preliminary numbers released just after the close usually differ slightly from these numbers.
We usually recommend that readers keep their own data for themselves, but this is a useful way to check and see if your numbers agree with ours.
Starting 3/8/2012:
NYSE Up Volume & Down Volume data will report composite trading volume.
3/7/2012 and before:
Reports NYSE floor trading volume, as has been our long standing practice.