NYSE McClellan Oscillator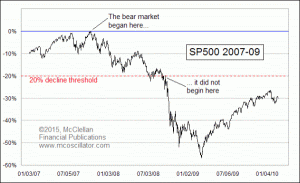 I am starting a personal crusade to expunge the notion of "10% is a correction and 20% is a bear market" from our collective lexicon. It is among the most meaningless, useless, and untrue statements out there.
The reason I dislike it so much is that it offers no insights about what a trader or investor should do. If you find the market down some percentage, and conclude that, okay, it is a "correction", then so what? What does one do next?
Every 20% decline goes first through 10%. So... Read More
NYSE: 08/31/2015
Issues
Volume(000s)
Advances
1388
1685259
Declines
1774
2121297
Difference
-386
-436038
10% Trend
-100
. 848
-300339
5% Trend
-148
. 065
-353122
McC OSC
47
. 217
52783
PRIOR McC OSC
66
. 377
63497
SUMM Index
-905
. 596
-4006261
PRIOR SUMM Index
-952
. 812
-4059044
A-D for OSC UNCH
-54
-248 *
A-D for OSC=0
-998
-1303 *

*million shares

DJIA Close
16528.03
PRIOR Close
16643.01
DJIA CHG
-114.98
DOW Price OSC
-342.04
PRIOR DOW Price OSC
-338.75
Price OSC UNCH'D
16550.05

Daily Oscillator Data
(.xls)
Extended Data
All of this data, plus a lot more, is available on our Daily Edition along with charts and analysis. See our Market Reports page to get the bigger picture.
Market Breadth Data Notes
We use WSJ/Barron's data for our final breadth numbers. Calculations made on numbers from other sources will show a slightly different result.
We wait until late in the day in order to have access to the "final" numbers.
This reflects final readings for the indicators covered.
Values for indicators calculated using preliminary numbers released just after the close usually differ slightly from these numbers.
We usually recommend that readers keep their own data for themselves, but this is a useful way to check and see if your numbers agree with ours.
Starting 3/8/2012:
NYSE Up Volume & Down Volume data will report composite trading volume.
3/7/2012 and before:
Reports NYSE floor trading volume, as has been our long standing practice.