NYSE McClellan Oscillator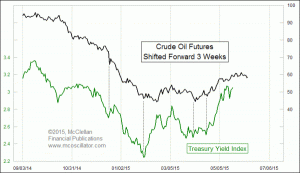 What if I told you I could draw you a picture ahead of time for what the future of interest rate movements would look like? That would be a cool trick, no doubt. But that's exactly what crude oil prices can do for us.
This relationship is part of a category of relationships that I refer to as "Liquidity Wave" phenomena. The idea is that a price pattern which appears in one dataset can reliably show up later in another. So if you see something happen in the leading data, you can... Read More
NYSE: 05/27/2015
Issues
Volume(000s)
Advances
2319
2213047
Declines
841
834655
Difference
1478
1378392
10% Trend
10
. 765
-40877
5% Trend
42
. 120
23193
McC OSC
-31
. 355
-64070
PRIOR McC OSC
-118
. 808
-150441
SUMM Index
1703
. 394
808567
PRIOR SUMM Index
1734
. 749
872638
A-D for OSC UNCH
-21
-105 *
A-D for OSC=0
607
1176 *

*million shares

DJIA Close
18162.99
PRIOR Close
18041.54
DJIA CHG
121.45
DOW Price OSC
69.61
PRIOR DOW Price OSC
72.08
Price OSC UNCH'D
18212.29

Daily Oscillator Data
(.xls)
Extended Data
All of this data, plus a lot more, is available on our Daily Edition along with charts and analysis. See our Market Reports page to get the bigger picture.
Market Breadth Data Notes
We use WSJ/Barron's data for our final breadth numbers. Calculations made on numbers from other sources will show a slightly different result.
We wait until late in the day in order to have access to the "final" numbers.
This reflects final readings for the indicators covered.
Values for indicators calculated using preliminary numbers released just after the close usually differ slightly from these numbers.
We usually recommend that readers keep their own data for themselves, but this is a useful way to check and see if your numbers agree with ours.
Starting 3/8/2012:
NYSE Up Volume & Down Volume data will report composite trading volume.
3/7/2012 and before:
Reports NYSE floor trading volume, as has been our long standing practice.