NYSE McClellan Oscillator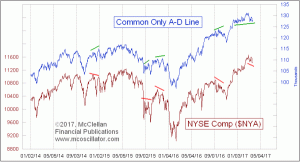 For as long as there have been Advance-Decline (A-D) data that people have been interested in following, there have been criticisms of that very A-D data for including "the wrong sorts" of issues. Back in 1962, Joe Granville and Richard Russell both pointed to the big divergence between the NYSE A-D Line and the major averages like the DJIA. That divergence preceded a 27% decline in the DJIA, so in that moment the A-D Line suddenly became much more interesting to a lot of people.
But... Read More
NYSE: 03/24/2017
Issues
Volume(000s)
Advances
1537
1397471
Declines
1420
1466204
Difference
117
-68733
10% Trend
13
. 445
-291939
5% Trend
42
. 132
-157349
McC OSC
-28
. 687
-134590
PRIOR McC OSC
-36
. 253
-154727
SUMM Index
1679
. 503
-362185
PRIOR SUMM Index
1708
. 190
-227595
A-D for OSC UNCH
-15
-427 *
A-D for OSC=0
558
2265 *

*million shares

DJIA Close
20596.72
PRIOR Close
20656.58
DJIA CHG
-59.86
DOW Price OSC
170.47
PRIOR DOW Price OSC
189.05
Price OSC UNCH'D
20931.43

Daily Oscillator Data
(.xls)
Extended Data
All of this data, plus a lot more, is available on our Daily Edition along with charts and analysis. See our Market Reports page to get the bigger picture.
Market Breadth Data Notes
We use WSJ/Barron's data for our final breadth numbers. Calculations made on numbers from other sources will show a slightly different result.
We wait until late in the day in order to have access to the "final" numbers.
This reflects final readings for the indicators covered.
Values for indicators calculated using preliminary numbers released just after the close usually differ slightly from these numbers.
We usually recommend that readers keep their own data for themselves, but this is a useful way to check and see if your numbers agree with ours.
Starting 3/8/2012:
NYSE Up Volume & Down Volume data will report composite trading volume.
3/7/2012 and before:
Reports NYSE floor trading volume, as has been our long standing practice.