NYSE McClellan Oscillator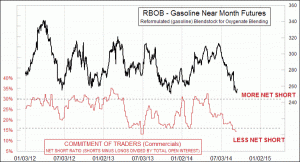 The terrorist group ISIS (AKA the un-Islamic non-state "Army of Satan") is tying up major portions of oil-rich Mesopotamia. Russian troops are occupying portions of Ukraine, which is a key portal for oil and natural gas to transit to western Europe. And the oil-rich portions of Africa have been subjected to a viral outbreak that is causing the rich and educated in that region to flee for their lives, leaving the others to fend for themselves.
So of course this geopolitical condition... Read More
NYSE: 09/19/2014
Issues
Volume(000s)
Advances
1248
1782360
Declines
1885
2809955
Difference
-637
-1027595
10% Trend
-93
. 866
-63897
5% Trend
-4
. 070
-4930
McC OSC
-89
. 797
-58967
PRIOR McC OSC
-62
. 760
-5714
SUMM Index
1767
. 473
481410
PRIOR SUMM Index
1857
. 269
540377
A-D for OSC UNCH
-184
-123 *
A-D for OSC=0
1612
1056 *

*million shares

DJIA Close
17279.74
PRIOR Close
17265.99
DJIA CHG
13.75
DOW Price OSC
86.78
PRIOR DOW Price OSC
79.64
Price OSC UNCH'D
17166.27

Daily Oscillator Data
(.xls)
Extended Data
All of this data, plus a lot more, is available on our Daily Edition along with charts and analysis. See our Market Reports page to get the bigger picture.
Market Breadth Data Notes
We use WSJ/Barron's data for our final breadth numbers. Calculations made on numbers from other sources will show a slightly different result.
We wait until late in the day in order to have access to the "final" numbers.
This reflects final readings for the indicators covered.
Values for indicators calculated using preliminary numbers released just after the close usually differ slightly from these numbers.
We usually recommend that readers keep their own data for themselves, but this is a useful way to check and see if your numbers agree with ours.
Starting 3/8/2012:
NYSE Up Volume & Down Volume data will report composite trading volume.
3/7/2012 and before:
Reports NYSE floor trading volume, as has been our long standing practice.