NYSE McClellan Oscillator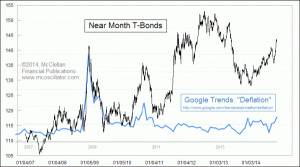 I cannot believe the volume of the news stories I am seeing in the financial media, with people worrying about impending deflation. And as any card-carrying contrarian knows, when a topic gets too popular, you are near a turning point.
To check that observation, I went to Google Trends and did a quick search on the term "deflation". What Google does is to then come back with a chart showing interest in that term over time among the news media. And sure enough, October 2014 is showing... Read More
NYSE: 10/23/2014
Issues
Volume(000s)
Advances
2446
2868229
Declines
745
840132
Difference
1701
2028097
10% Trend
248
. 731
128212
5% Trend
47
. 203
-84278
McC OSC
201
. 528
212490
PRIOR McC OSC
127
. 207
112569
SUMM Index
-341
. 726
-2755193
PRIOR SUMM Index
-543
. 254
-2967683
A-D for OSC UNCH
450
341 *
A-D for OSC=0
-3580
-3909 *

*million shares

DJIA Close
16677.90
PRIOR Close
16461.32
DJIA CHG
216.58
DOW Price OSC
-133.12
PRIOR DOW Price OSC
-143.98
Price OSC UNCH'D
16478.88

Daily Oscillator Data
(.xls)
Extended Data
All of this data, plus a lot more, is available on our Daily Edition along with charts and analysis. See our Market Reports page to get the bigger picture.
Market Breadth Data Notes
We use WSJ/Barron's data for our final breadth numbers. Calculations made on numbers from other sources will show a slightly different result.
We wait until late in the day in order to have access to the "final" numbers.
This reflects final readings for the indicators covered.
Values for indicators calculated using preliminary numbers released just after the close usually differ slightly from these numbers.
We usually recommend that readers keep their own data for themselves, but this is a useful way to check and see if your numbers agree with ours.
Starting 3/8/2012:
NYSE Up Volume & Down Volume data will report composite trading volume.
3/7/2012 and before:
Reports NYSE floor trading volume, as has been our long standing practice.