NYSE McClellan Oscillator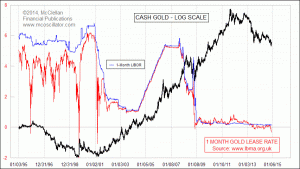 There is a big squeeze under way in the gold leasing market, a condition which is usually followed by a meaningful gold rally in the weeks that follow.
The London Bullion Market Association publishes data each day on the Gold Forward Offered Rate, or GOFO. These are rates at which LBMA members are prepared to lend gold on a swap against U.S. dollars. Right now, all lease periods out to 6 months are showing negative rates, meaning that the lessors are willing to actually pay you to borrow... Read More
NYSE: 11/26/2014
Issues
Volume(000s)
Advances
1952
1458048
Declines
1206
1188660
Difference
746
269388
10% Trend
374
. 865
363420
5% Trend
274
. 564
242886
McC OSC
100
. 301
120534
PRIOR McC OSC
83
. 876
132377
SUMM Index
2842
. 934
1344056
PRIOR SUMM Index
2742
. 633
1223521
A-D for OSC UNCH
475
484 *
A-D for OSC=0
-1531
-1927 *

*million shares

DJIA Close
17827.75
PRIOR Close
17814.94
DJIA CHG
12.81
DOW Price OSC
235.70
PRIOR DOW Price OSC
233.12
Price OSC UNCH'D
17807.17

Daily Oscillator Data
(.xls)
Extended Data
All of this data, plus a lot more, is available on our Daily Edition along with charts and analysis. See our Market Reports page to get the bigger picture.
Market Breadth Data Notes
We use WSJ/Barron's data for our final breadth numbers. Calculations made on numbers from other sources will show a slightly different result.
We wait until late in the day in order to have access to the "final" numbers.
This reflects final readings for the indicators covered.
Values for indicators calculated using preliminary numbers released just after the close usually differ slightly from these numbers.
We usually recommend that readers keep their own data for themselves, but this is a useful way to check and see if your numbers agree with ours.
Starting 3/8/2012:
NYSE Up Volume & Down Volume data will report composite trading volume.
3/7/2012 and before:
Reports NYSE floor trading volume, as has been our long standing practice.