NYSE McClellan Oscillator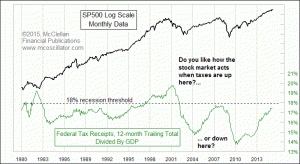 The April 15 income tax filing deadline came this week, and so taxes are on the minds of a lot of Americans. As Arthur Laffer noted 3 decades ago, it reaally is possible to set tax rates too high such that it actually hurts the economy. We appear to be in such a condition now.
I wrote about this topic back in January, when lawmakers were contemplating raising the tax on gasoline. But it is worth revisiting as we see total federal receipts creeping up toward 18% of GDP. Whenever total... Read More
NYSE: 04/17/2015
Issues
Volume(000s)
Advances
633
658245
Declines
2517
2879653
Difference
-1884
-2221408
10% Trend
46
. 134
104443
5% Trend
111
. 004
127477
McC OSC
-64
. 870
-23034
PRIOR McC OSC
44
. 589
111769
SUMM Index
2693
. 878
1482069
PRIOR SUMM Index
2758
. 748
1505103
A-D for OSC UNCH
-19
81 *
A-D for OSC=0
1279
542 *

*million shares

DJIA Close
17826.30
PRIOR Close
18105.77
DJIA CHG
-279.47
DOW Price OSC
28.96
PRIOR DOW Price OSC
37.27
Price OSC UNCH'D
17971.33

Daily Oscillator Data
(.xls)
Extended Data
All of this data, plus a lot more, is available on our Daily Edition along with charts and analysis. See our Market Reports page to get the bigger picture.
Market Breadth Data Notes
We use WSJ/Barron's data for our final breadth numbers. Calculations made on numbers from other sources will show a slightly different result.
We wait until late in the day in order to have access to the "final" numbers.
This reflects final readings for the indicators covered.
Values for indicators calculated using preliminary numbers released just after the close usually differ slightly from these numbers.
We usually recommend that readers keep their own data for themselves, but this is a useful way to check and see if your numbers agree with ours.
Starting 3/8/2012:
NYSE Up Volume & Down Volume data will report composite trading volume.
3/7/2012 and before:
Reports NYSE floor trading volume, as has been our long standing practice.