Pull the trigger with confidence.

We look deeper into market trends. Our analysis puts our readers ahead of price movements... and ahead of the public. For over 40 years, institutional investors and individual traders have relied on our forecasts. Get the edge you've been missing.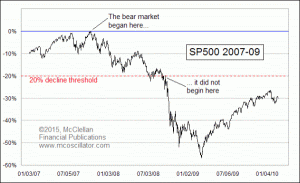 I am starting a personal crusade to expunge the notion of "10% is a correction and 20% is a bear market" from our collective lexicon. It is among the most meaningless, useless, and untrue statements out there.
The reason I dislike it so much is that it offers no insights about what a trader or investor should do. If you find the market down some percentage, and conclude that, okay, it is a "correction", then so what? What does one do next?
Every 20% decline goes first through 10%. So... Read More
News

- Interview with Sherman McClellan

Audio Interview with Sherman McClellan by Ike Iossif on Friday 8/21/15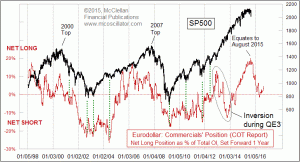 The ugly decline I have been forecasting for almost a year now seems to have gotten an early start, thanks to word of that forecast getting out to a larger audience. I have never been accused of moving the market before, so this is a new experience, and it leads us to the question of what to do now in response to that movement.
To review, this expectation of an ugly decline comes largely from the leading indication we get from some data in the weekly Commitment of Traders (COT) Report,... Read More
News

- Timer Digest Mid-Year Rankings

Tom delivered consistent performance as the only timer ranking in the top five of Stocks, Bonds and Gold.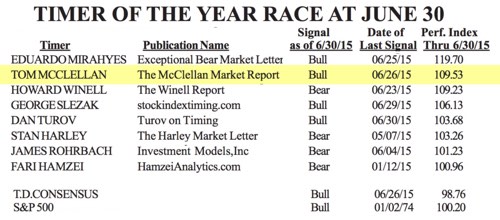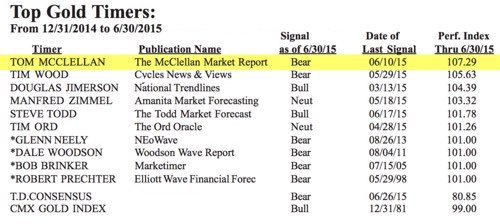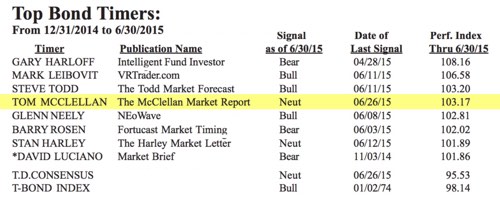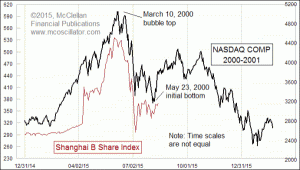 The rapid drop in the Chinese stock market earlier this summer has brought out a lot of comparisons to the U.S. stock market crashes of 1929 and 1987. Assuredly there is some pattern similarity, but the difference in both of those cases was that the whole world's stock markets went down in unison. China's 2015 crash has thus far not had a large contagion effect; the spot SP500 Index is still just 2.2% away from making a new all-time high.
This week's chart argues that the better... Read More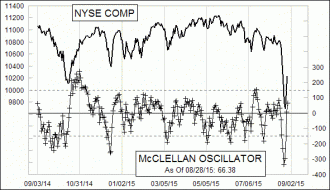 | | | |
| --- | --- | --- |
| 08/28/2015 | Issues | Volume(000s) |
| McC OSC | 66.377 | 63497 |
| Sum Index | -952.812 | -4059044 |

Created 1969, the McClellan Oscillator is recognized by technical analysts as the essential tool for measuring acceleration in the stock market. Using advance-decline statistics, it gives overbought and oversold indications, divergences, and measurements of the power of a move.

Latest Reports
(Subscription Required)
Free Chart In Focus Email