Pull the trigger with confidence.

We look deeper into market trends. Our analysis puts our readers ahead of price movements... and ahead of the public. For over 40 years, institutional investors and individual traders have relied on our forecasts. Get the edge you've been missing.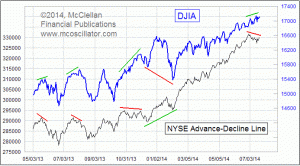 The Fed is still pumping liquidity into the banking system, albeit at diminished rates, and the large cap indices are still showing no signs of trouble, with the DJIA making higher highs and higher lows.
But when price indices make higher highs and the NYSE's A-D Line refuses to confirm, that condition usually leads to a meaningful selloff. That is the condition we are seeing right now, with a classic looking A-D Line divergence.
I should emphasize that this short term divergence is not... Read More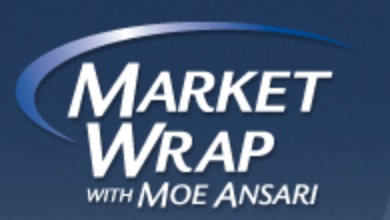 July 21st 2014.
News

- Sherman on MarketViews.tv

July 18th, 2014 - Sherman's take on the current market.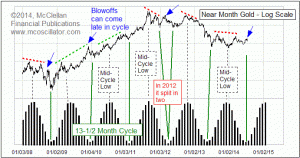 The price bottom associated with gold's 13-1/2 month cycle is ideally due right now. The problem is that gold does not always bottom exactly when it is supposed to, and there is still work yet to do. By that I mean that there are tasks associated with this cycle bottom which gold has not yet accomplished.
I mentioned back in April 2014 that gold was currently in "left translation" for this current cycle, and that this implies we should see a price low at the cycle bottom which goes below... Read More
from Timer Digest July 14 2014:
Top Gold Timers:
From 12/31/2013 to 6/30/2014
Tom McClellan of The McClellan Market Report issued several timely signal changes in a volatile first half to produce a superior performance as the Mid-Year leader among Gold Timers. Gold rallied sharply to begin the year, then entered corrective phase after midMarch. The 2014 advance was supported by a severely oversold technical condition. This was followed by a correction in the absence of strong fundamental factors. Geo-political tensions and emergent inflation may still influence demand; but have not yet been sufficient to produce a new, sustainable trend.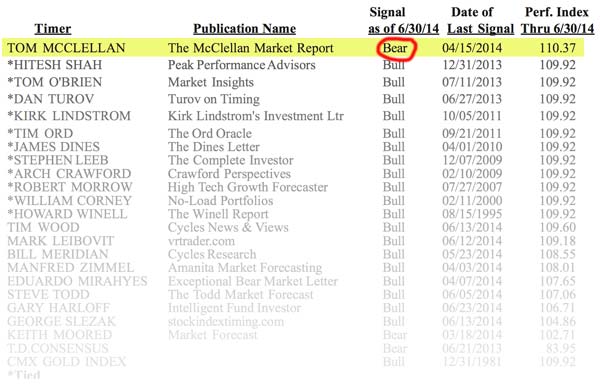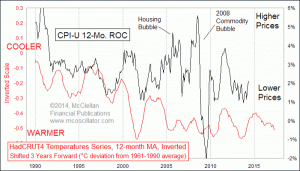 Back in September 2013, I wrote about a unique new way to forecast inflation. That piece called for a pickup in inflation, which has materialized, and so it is worth taking another look to see what more is ahead.
The unique idea is that global temperatures give us a 3-year leading indication for what inflation rates are going to do. The relationship does not do it perfectly, just really well. This week's chart zooms in closer on the relationship I introduced in that September 2013... Read More

"In a recent interview with Financial Sense, market technician Tom McClellan says current sentiment is "horribly bullish" with the market ..."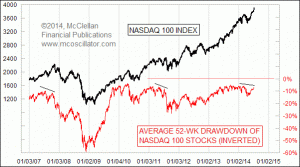 The Nasdaq 100 Index is making new multi-year highs, levels not seen since the weeks just after the 2000 Internet Bubble top. But it is interesting for us to see that the average component stock in that index is down 7% from its trailing 52-week high.
And that 7% drawdown number is actually smaller than it has been recently, but it is still not back to the low drawdown reading of 6.0% that we saw in early March, before the Nasdaq 100 stocks got into a patch of trouble. And the... Read More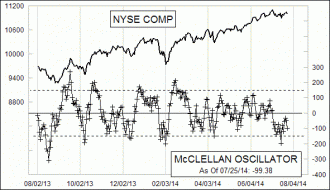 | | | |
| --- | --- | --- |
| 07/25/2014 | Issues | Volume(000s) |
| McC OSC | -99.376 | -64114 |
| Sum Index | 2865.885 | 1437507 |

Created 1969, the McClellan Oscillator is recognized by technical analysts as the essential tool for measuring acceleration in the stock market. Using advance-decline statistics, it gives overbought and oversold indications, divergences, and measurements of the power of a move.

Latest Reports
(Subscription Required)
Free Chart In Focus Email