Pull the trigger with confidence.

We look deeper into market trends. Our analysis puts our readers ahead of price movements... and ahead of the public. For over 40 years, institutional investors and individual traders have relied on our forecasts. Get the edge you've been missing.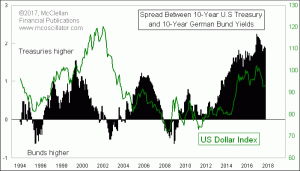 In Dec. 2016, the monthly closing spread between yields on U.S. 10-year Treasury Notes and the equivalent debt instrument from Germany was 2.24 percentage points, the highest reading we have seen since the 1980s. As the spread has started to contract, we have watched the US Dollar Index make its biggest drop since 2011.
Those German bonds are known as "bunds", which is short for bundes which means "federal" in German, as in the Bundesrepublik Deutschland. This week's chart shows that the... Read More
News

- Sherman McClellan on the Markets

Sherman McClellan discusses what type of top to expect, which indicatators he is looking at, and the bond market. (podcast inverview 06:37)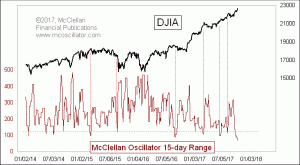 Back in June, I introduced you to the indicator in this week's chart, which examines how much movement the McClellan Oscillator has had over the preceding 15 trading days. My timing was excellent, in that I so precisely picked the one time that a really low reading did not seem to matter at all.
Most of the very low readings for this indicator mark meaningful tops for stock prices. It was just my luck that I called attention to it just at the moment when a wonderful exception appeared.
...
Read More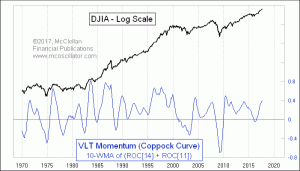 Years ago, a technical analyst and money manager named E.S.C. (Sedge) Coppock created an indicator that has since come to be known as the "Coppock Curve". Coppock never called it that himself, instead calling it his Very Long Term (VLT) Momentum Index. That indicator is now getting up to a high level, which says that the uptrend is getting stretched.
What Coppock wanted was to have an indicator that would help identify the really juicy bottoming conditions which only appear every few... Read More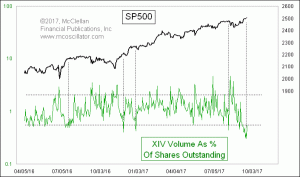 The short VIX trade has been described recently as "the most crowded trade" out there. But traders of XIV, an inverse VIX ETN, have not been all that excited about it lately, judging by the trading volume. And that says we have a topping condition for prices.
XIV invests in the two nearest month VIX futures contracts, so it is not a pure inverse VIX product. The VIX futures sometimes behave a little bit differently from the spot VIX Index, and so anyone trading XIV should understand what... Read More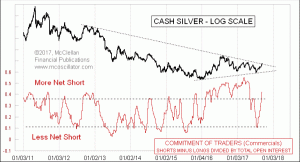 The price of spot silver is trying really hard to break a long term downtrend line, which would arguably be a bullish development if the breakout succeeds. But the big-money "commercial" traders of silver futures are betting heavily on a failure of that breakout attempt.
The Commitment of Traders (COT) Report is published every Friday by the CFTC, detailing futures positions held by traders in 3 different groups:
• Commercial traders are the big money, and usually the smart money.
•... Read More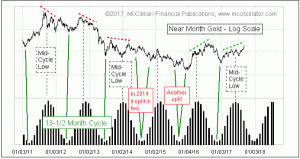 Gold has been pushing up to higher closing highs, which is getting the gold bugs all excited. But we are now late in the 13-1/2 month cycle that is dominant in gold prices, and so we should expect a drop into the major cycle low due at the end of 2017.
But there is a lot more to the 13-1/2 month cycle than just when to expect the major lows. For starters, there is a mid-cycle low that usually arrives around the mid-point of the whole cycle. The mid-cycle low is usually not as punctual as... Read More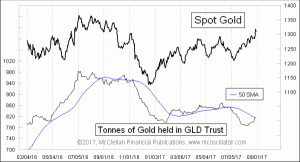 A late-August surge in gold prices has finally attracted traders back into SPDR Gold Shares (GLD), the largest of the gold bullion ETNs. This week's chart looks at total assets held in the GLD Trust, which issues or redeems shares as needed in order to keep the share price as close as possible to the net asset value. Those shares are backed by actual gold bullion, and so issuing more shares means more gold in their vaults. Data are available from... Read More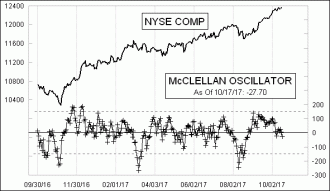 | | | |
| --- | --- | --- |
| 10/17/2017 | Issues | Volume(000s) |
| McC OSC | -27.702 | -64252 |
| Sum Index | 3710.426 | 2524651 |

Created 1969, the McClellan Oscillator is recognized by technical analysts as the essential tool for measuring acceleration in the stock market. Using advance-decline statistics, it gives overbought and oversold indications, divergences, and measurements of the power of a move.

Latest Reports
(Subscription Required)
Free Chart In Focus Email