Pull the trigger with confidence.

We look deeper into market trends. Our analysis puts our readers ahead of price movements... and ahead of the public. For over 40 years, institutional investors and individual traders have relied on our forecasts. Get the edge you've been missing.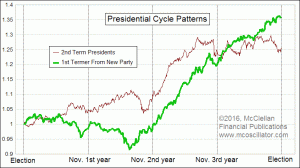 While the upcoming election is holding everyone's attention, it is appropriate to look at what might lie beyond. One important point to note is that there is a difference in the market's behavior depending on whether the incumbent party wins, or whether the new challenger party candidate wins.
The chart above shows two different versions of our Presidential Cycle Pattern, based on which type of president is in office. I don't mean which party, but rather the differentiation is over... Read More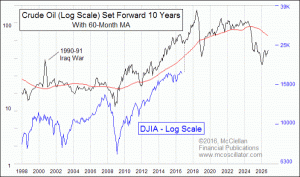 If you want to know what the DJIA is going to do next year, just look back at what crude oil was doing 10 years ago.
That is the message of this week's chart, and it is one I have featured before. I love to find instances where one can get the answers ahead of time, and this is one of the best such relationships I have ever encountered. This discovery came about when I got ahold of some long-term data on crude oil prices, which had been gathered years ago by the Foundation for the Study... Read More
News

- Audio Interview with Sherman McClellan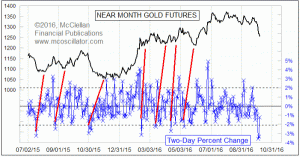 Gold saw a huge 1-day drop on Tuesday, Oct. 4, triggering all sorts of rumors about a big fund having to liquidate, or maybe it was worries about ECB tapering. Whatever the cause eventually turns out to have been, the size of that drop by itself conveys important information.
The key: Big drops over 1 or 2 days typically do not mark the final low for a price decline in gold.
We can see that in this week's chart, which uses a 2-day rate of change for closing gold futures prices. ... Read More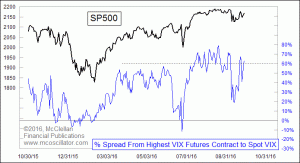 When there is a big disagreement between the value of the spot VIX Index and the prices of its futures contracts, that carries important information about trader sentiment.
As of the close on Sep. 28, 2016, the spot VIX was well below all of its futures contracts. The chart above measures the spread between the spot VIX and the highest priced VIX futures contract, which is currently June 2017. The direct message is that VIX futures traders do not think that VIX value in the 12s is likely... Read More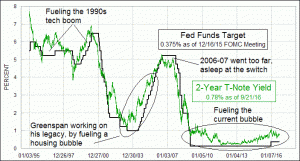 This article first appeared in McClellan Market Report #515, published Sep. 21, 2016, and reflects a theme we have reported on multiple times before.
We have an unblemished 21-year track record of predicting what the Fed should do, with 100% accuracy. What the FOMC actually does is often different from what it should do. As of the Sep. 21 FOMC meeting announcement, the Fed has missed another chance to do the right thing.
There is only one reason why the FOMC should ever change the... Read More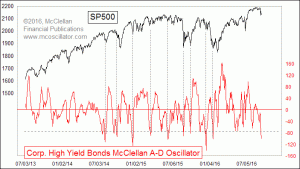 The regular McClellan Oscillator is based on Advance-Decline (A-D) data for the NYSE. But the same calculation can be done on other sets of A-D data. This week's chart looks at an interesting example of that, with a big message for the current moment.
The Financial Industry Regulatory Authority (FINRA) kindly publishes data on Advances and Declines for corporate bonds, breaking out totals for Investment Grade, High Yield, and Convertible. Each category is interesting in its own right,... Read More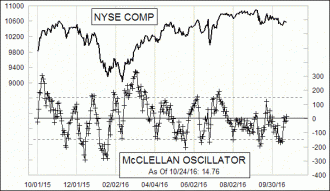 | | | |
| --- | --- | --- |
| 10/24/2016 | Issues | Volume(000s) |
| McC OSC | 14.760 | 29964 |
| Sum Index | 1408.091 | 437671 |

Created 1969, the McClellan Oscillator is recognized by technical analysts as the essential tool for measuring acceleration in the stock market. Using advance-decline statistics, it gives overbought and oversold indications, divergences, and measurements of the power of a move.

Latest Reports
(Subscription Required)
Free Chart In Focus Email