The McClellan Market Report
Get the Big Picture
8 full pages of advanced technical analysis of the stock, bond, and gold markets. We publish twice a month to give you the story behind the numbers. Our goal is to help you anticipate market movements. The McClellan Market Report gives you the tools confirm movements to proactively manage your portfolio.
Published twice a month
8 full pages
20-25 Charts - the McClellans' elegantly elaborate charts
Bottom Line - A concise forecast of the current trend, and when it is likely to change
Timing Models - Proprietary mathematical predictive model yields future turning point dates
The Signals - our current forecasts for stocks, bonds, and gold
The McClellan Market Report

The Daily Edition
Immediate Technical Insights
Just like the markets, no two days of the Daily Edition are ever the same as we review the current state of stocks, T-Bonds and gold. It is designed for people who need more frequent information, who want to understand the gears inside the machine, and who value innovative technical analysis that the crowd does not have.
Daily News Analysis - the story behind the stories
2-3 pages - Published every trading day.
Expanded Data tables - tracking NYSE, NASDAQ, DJIA, NDQ 100, SP500, Russ2000 and more...
Support/resistance levels for the major stock market averages, T-Bonds, and gold
COT Report Analysis on Fridays (Commitment of Traders)
Current Opinions - our stance on stocks, bonds, and gold, at a glance
Get Your Edge on the Market
Our analysis works to put you ahead of price movements. We give you an edge not just on the market, but an edge over other traders with whom we all compete for opportunity. Everyone else can use the news stories and the conventional technical indicators. We look deeper, with different tools, to give you an edge over the crowd.
Rising Star Stock Program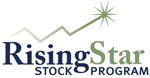 Our Rising Star program uses proprietary directional analysis indicators to identify the stocks that are ready to move or have completed a move.
Institutional traders and mutual fund managers have relied on the market-wide forecasts, that have traditionally been the McClellans' forté.   Quietly, Tom McClellan & Roger Kliminski were researching & testing timing techniques on individual stocks. Perfected though 2009 and actively trading since December 2009, Rising Star is ready for our Daily Edition readers. Learn More
Ongoing Innovation
Sherman & Marian McClellan invented the McClellan Oscillator in 1969. After graduating from business school in the late 1950s, Sherman tried to make sense of the world using the information he had been taught in school, and he became disillusioned using traditional fundamental analysis. Determined to uncover the 'why' and 'when' of price movements, Sherm and his mathematician wife Marian dug deeper into price trends, looking for answers.
The result of their research became the McClellan Oscillator and Summation Index. Encouraged by peers and appearances on KWHY-TV in Los Angeles, they published their work in 1970 in the book Patterns For Profit. Today the McClellan Oscillator & Summation Index are essential tools for professional technical analysts, and are included in all of the leading charting software programs.
Tom McClellan refined the application and interpretation of the McClellan indicators and 1995, in partnership with his father, Tom started the McClellan Market Report.   Tom has continued to innovate and uncovered a phenomenon that is now known as "Liquidity Waves".  Tom has now developed a series of indicators which track and predict price waves movement from market to market. 

Money-Back Guarantee
You are free to cancel any subscription at anytime and receive a prorated refund. We are here when you need us, but you are never locked in.

The McClellan Market Report
Big picture analysis
Forecasts
Proprietary Timing Models
Published 2x/month

The Daily Edition
The latest analysis
Published every trading day
Complete McClellan Oscillator
& Summation Index Data

We don't sell or share your email address or personal information. We take our customer's privacy seriously.

Money-Back Guarantee
You are free to cancel any subscription at anytime and receive a prorated refund. We are here when you need us, but you are never locked in.



Secure Ordering

Pay by check: order form

Phone Orders:
1-800-872-3737
(253) 581-4889