Pull the trigger with confidence.

We look deeper into market trends. Our analysis puts our readers ahead of price movements... and ahead of the public. For over 40 years, institutional investors and individual traders have relied on our forecasts. Get the edge you've been missing.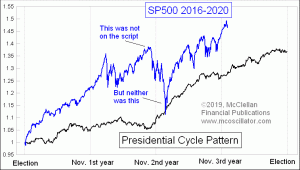 Now that we are less than 12 months from the next presidential election, it is appropriate to talk about how the stock market typically behaves during an election year. The short answer is that election years are up, on average, although not as strongly as the 3rd year of a presidential term. And when an election year sees a down stock market, as in 2000 or 2008, it is bad for the party in power.
This week's chart shows our Presidential Cycle Pattern, which is an average of the SP500's... Read More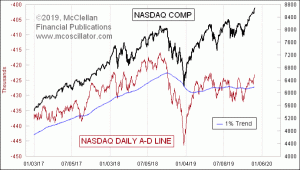 The cumulative daily Advance-Decline Line (A-D Line) for the Nasdaq is now finally making a slightly higher high than what it saw on Nov. 4, 2019. But it is still below the high made on May 3, 2019. And it is even further below the high made back on Aug. 31, 2018. Some analysts might look at these as "divergences", and infer a bearish implication. But that would be wrong.
The problem is that the Nasdaq's A-D data have an inherent negative bias, and this has been the case for most of the... Read More
News

- Short Interview w/ Sherman by MarketViews

Audio Interview with Sherman McClellan by Ike Iossif. (5min 30sec)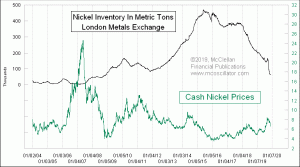 The conventional wisdom holds that the trade disagreements between the USA and China are going to lead to low GDP growth, and perhaps even a mini-recession in early 2020. That belief makes some sense, since tariffs are proven to be a hindrance on economic activity.
But what if the belief is oversubscribed? That seems to be the case with this week's chart, which looks at the inventory levels of nickel in the London Metals Exchange warehouses. Warehouse stocks peaked at 470,000 metric... Read More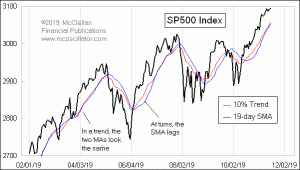 Technical analysts like to put moving averages on their charts, and each analyst has his own favorite for the type of moving average and the speed at which it adjusts to changes in the data. The two most common types in use these days are Simple Moving Averages (SMAs) and Exponential Moving Averages (EMAs).
To understand why technicians care about EMAs versus SMAs, a quick look at this chart provides some an illustration of the difference. During trending moves upward or downward, a 10%... Read More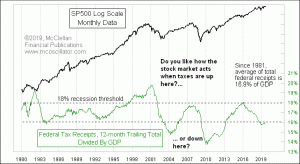 The good news for the stock market bulls is that the federal government is not taking too big of a bite out of Americans' incomes. The latest data from the Treasury Department show that total federal receipts from all sources for the 12 months ending September 2019 amounted to 16% of GDP. That still seems like a pretty high percentage empirically, but it is below the average of the past 4 decades.
This week's chart compares that measure of the tax bite to the movements of the SP500. The... Read More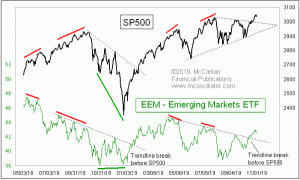 The SP500 has now finally broken out above its declining tops line, and closed at a new all-time high. Whether it could do so was in doubt for a while, but we had a strong hint that it was coming from this week's chart. It shows a comparison between the SP500 and EEM, the big emerging markets ETF sponsored by iShares.
EEM has the really fun property that when it disagrees with the SP500, that is usually really useful information. When there is a divergence or other disagreement, EEM... Read More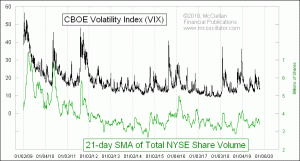 Brokerage firms have been bemoaning the declining amounts of share volume versus a few years ago. Trading volume equals commissions, or at least it used to before Schwab led the race to the bottom and went to zero commissions on online retail trades. The other discount brokers followed suit.
Economists will tell us that if you lower the price of something, people will consume more of it. But so far, that is not working out for trading volume with zero commissions. Instead, trading... Read More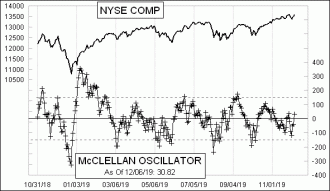 | | | |
| --- | --- | --- |
| 12/06/2019 | Issues | Volume(000s) |
| McC OSC | 30.823 | 97530 |
| Sum Index | 2349.351 | 1556335 |
Download Latest Reports
(Subscription Required)

Created 1969, the McClellan Oscillator is recognized by technical analysts as the essential tool for measuring acceleration in the stock market. Using advance-decline statistics, it gives overbought and oversold indications, divergences, and measurements of the power of a move.

Free Chart In Focus Email