Pull the trigger with confidence.

We look deeper into market trends. Our analysis puts our readers ahead of price movements... and ahead of the public. For over 40 years, institutional investors and individual traders have relied on our forecasts. Get the edge you've been missing.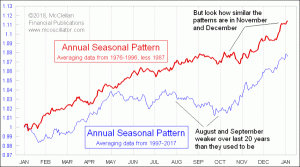 We all know about the factor of seasonality, and especially about how it is distilled into the bit of TV news wisdom, "Sell In May and go away". That phrase has been around for decades, originally supposedly referring to traders in England who would "Sell in May and go away, and come back on St. Leger's Day". This referred to the custom of aristocrats, merchants, and bankers who would skip town and go to the country during the hot months, returning for the St. Leger's Stakes, a horse race... Read More
We saw a really high degree of bullishness back in January 2018, when the U.S. stock market was making a big blowoff top. Since then, the major averages have struggled to move higher, and so has bullish sentiment. But in July 2018, we saw the Investors Intelligence Bull-Bear Spread move up again above its upper 50-1 Bollinger Band (BBand).
That is a clue that sentiment is getting too far extended, but it is not enough by itself to say that the market is all done going up. What is needed... Read More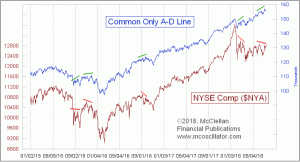 I get asked a lot about the supposed problems with the NYSE's Advance-Decline data, which some analysts claim is "contaminated" by the inclusion of NYSE-listed issues that are not "real stocks". If one is going to look for meaning about the stock market, some analysts say that one should really only look at the Advance-Decline data for the real stocks, or so goes the thinking. As with a lot of widely held beliefs, this is one that struggles when confronted with the actual data.
The reason... Read More
Hosts Tom Bowley and Erin Swenlin are joined by special guest Tom McClellan, editor of the McClellan Market Report. July 18th (1hr 30min)
Tom's interview starts at 21min mark.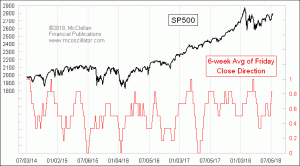 The SP500's higher close on Friday was one of several up Fridays we have seen recently. Moving up or down on a Friday can convey a message about investor sentiment, especially when multiple Fridays see the market go in the same direction.
To be a buyer on a Friday, one has to accept that you cannot get out again until Monday. So it takes some degree of confidence that "event risk" won't be a problem over the weekend. When people are feeling fearful, Fridays are more likely to see a lower... Read More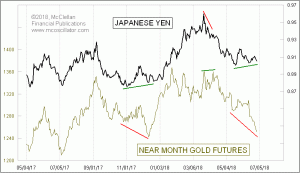 The price of gold carries on an interesting relationship with the exchange rate of the Japanese yen versus the dollar. Most of the time, the two move together, but they occasionally disagree. When that happens, it is usually the chart plot of the yen which ends up being "right" about where both are headed.
That is relevant at the moment because the dollar price of gold is making lower highs and lower lows, but the yen is showing a bullish divergence. The yen is not yet making higher... Read More
News

- MarketViews Audio Interview w/ Sherman McClellan

June 22nd 2018 Audio Interview - 6min 31sec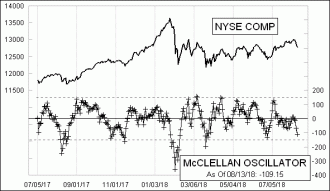 | | | |
| --- | --- | --- |
| 08/13/2018 | Issues | Volume(000s) |
| McC OSC | -109.148 | -180818 |
| Sum Index | 2357.010 | 1279342 |
Download Latest Reports
(Subscription Required)

Created 1969, the McClellan Oscillator is recognized by technical analysts as the essential tool for measuring acceleration in the stock market. Using advance-decline statistics, it gives overbought and oversold indications, divergences, and measurements of the power of a move.

Free Chart In Focus Email