Pull the trigger with confidence.

We look deeper into market trends. Our analysis puts our readers ahead of price movements... and ahead of the public. For over 40 years, institutional investors and individual traders have relied on our forecasts. Get the edge you've been missing.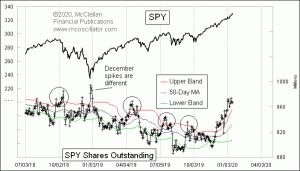 Note: This article previously appeared in the Jan. 14, 2020 issue of our Daily Edition. The charts are updated through Jan. 16's data.
This week's chart shows an interesting representation of bullish trader sentiment. The number of SPY shares outstanding is above its upper 50-1 Bollinger Band, and continuing to rise.
Check out the other instances when this indicator has gone above that upper 50-1 band. You will notice that all of them in this chart except one were associated with... Read More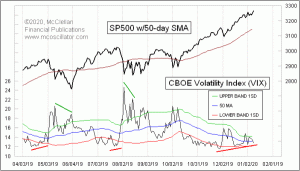 The major averages are ignoring missile strikes, oil market turmoil, and excessively bullish sentiment, keeping prices marching higher in 2020. But we have a major bearish divergence now in the VIX Index, which is NOT making lower lows to confirm those higher price highs.
The VIX Index made its lowest closing low for this price uptrend back on Nov. 26, at 11.54. Since then, it has been making a succession of higher lows, even though prices have continued higher. That sort of bearish... Read More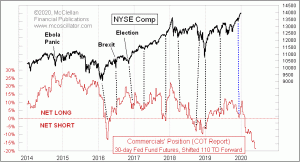 The efforts of the Federal Reserve to inject extra liquidity into the banking system over the past 2 months have helped to fuel the year-end (2019) rally. Questions remain about how long the Fed may choose to keep up that effort, and whether the Fed has enough ink in the printing presses to overcome other market forces.
And with all of the world contemplating the implications of the airstrike which killed the Iranian terrorist leader Qassem Soleimani, while at the same time repeating the... Read More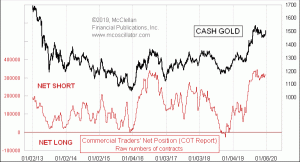 Gold prices are seeing a Christmas week pop, getting all of the gold bugs excited again. But the smart money "commercial" traders of gold futures have a different vision of the future.
Every Friday, the Commodity Futures Trading Commission (CFTC) publishes its Commitment of Traders (COT) Report, detailing the numbers of futures contracts held by different groups of traders. They break it down into the commercial, non-commercial, and non-reportable traders. Commercial traders are ones... Read More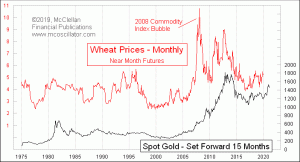 Food prices are poised to see their biggest rise in several years, and not just because China is going to become a buyer again of U.S. agricultural goods. There is a different reason for expecting food prices to rise, and it is contained in this week's lead chart.
Gold prices act as a leading indication for lots of different things, and this chart shows how the movements of wheat futures prices tend to echo gold's dance steps, with about a 15-month lag period. Gold was making a bottom in... Read More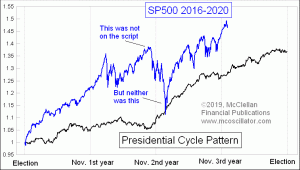 Now that we are less than 12 months from the next presidential election, it is appropriate to talk about how the stock market typically behaves during an election year. The short answer is that election years are up, on average, although not as strongly as the 3rd year of a presidential term. And when an election year sees a down stock market, as in 2000 or 2008, it is bad for the party in power.
This week's chart shows our Presidential Cycle Pattern, which is an average of the SP500's... Read More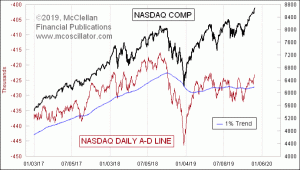 The cumulative daily Advance-Decline Line (A-D Line) for the Nasdaq is now finally making a slightly higher high than what it saw on Nov. 4, 2019. But it is still below the high made on May 3, 2019. And it is even further below the high made back on Aug. 31, 2018. Some analysts might look at these as "divergences", and infer a bearish implication. But that would be wrong.
The problem is that the Nasdaq's A-D data have an inherent negative bias, and this has been the case for most of the... Read More
News

- Short Interview w/ Sherman by MarketViews

Audio Interview with Sherman McClellan by Ike Iossif. (5min 30sec)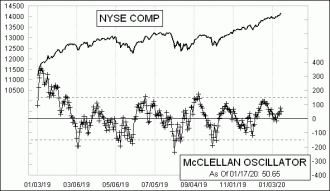 | | | |
| --- | --- | --- |
| 01/17/2020 | Issues | Volume(000s) |
| McC OSC | 50.651 | 29047 |
| Sum Index | 3938.889 | 3677256 |
Download Latest Reports
(Subscription Required)

Created 1969, the McClellan Oscillator is recognized by technical analysts as the essential tool for measuring acceleration in the stock market. Using advance-decline statistics, it gives overbought and oversold indications, divergences, and measurements of the power of a move.

Free Chart In Focus Email