Pull the trigger with confidence.

We look deeper into market trends. Our analysis puts our readers ahead of price movements... and ahead of the public. For over 40 years, institutional investors and individual traders have relied on our forecasts. Get the edge you've been missing.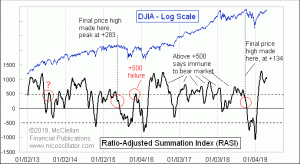 We are now 4 months into the rebound off of the Dec. 24, 2018 low, so it is a natural question to wonder if the uptrend is going to continue, or whether instead the major averages are going to stop here at the level of the prior highs. This week's chart offers us some useful clues about which answer applies this time.
Here is the shortcut version: Gobs of breadth is a good thing.
Now here is the longer explanation: When the NYSE's A-D Line is really strong for a long period, it produces... Read More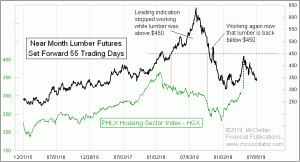 Back on March 22, I wrote here about how the price of lumber had lost its ability to correctly foretell several economic data series which tend to follow in lumber's footsteps. The big blowoff move up to the May 2018 top at 639, where lumber stayed for about a nanosecond, has not been getting replicated in the other data related to housing. My explanation of this is that it was not a pure supply/demand event, with messaging about what lies ahead for the other data series. It was, instead,... Read More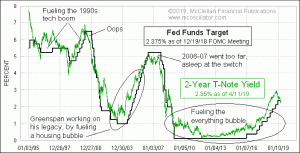 I have long advocated for the FOMC getting out of the business of setting short term interest rates, and instead they should outsource that job to the 2-year T-Note yield. While that outsourcing might put several American PhD economists out of work, I'm okay with that, because it would give us the benefit of having more efficient monetary policy, with less severe bubbles and depressions.
This week's chart compares the Fed Funds target rate (black line) to the 2-year T-Note yield (green). ... Read More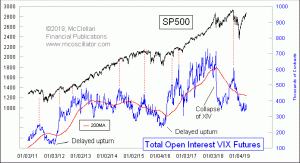 VIX futures contracts have only been a thing since March 2004, and they were not a big thing when they first started. In more recent years, they have become an important tool for a lot of hedge funds and other portfolios, and they have also become important in terms of giving us information about what lies ahead.
This week's chart looks at the total open interest in all of the different VIX futures contracts which are open at any given time. It does an interesting job of correlating well... Read More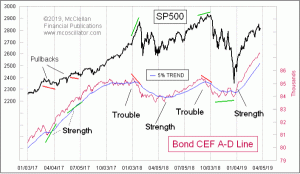 Liquidity is the big factor which drives the overall stock market. But liquidity is not measurable; it has no units. It is like the wind - - you cannot see the wind, you can only see what the wind does to trees, buildings, carports, etc. So if you want to know what the wind is doing, you need a windsock. And if you want to know what liquidity is doing, you similarly need an indicator of what liquidity is doing, good or bad.
This week's chart does a pretty good job at that task. And it... Read More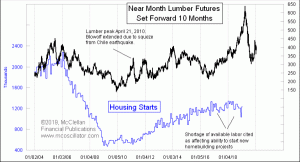 For years the price of lumber futures has been a pretty good leading indicator for a variety of economic data, especially the series related to the housing market. But recent events have caused lumber to not be a good leading indicator. It is likely just temporary, and hopefully lumber will get back to being a good messenger about what the future holds. So we should not expect the data on U.S. housing starts in this week's chart to echo lumber's big blowoff top.
Housing starts data... Read More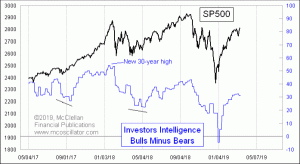 Most of the behavior of market sentiment indicators is driven by what prices do. This week's chart is a case in point, showing the spread between the bullish and bearish percentages as reported by Investors Intelligence. The attribute of these data that I want to call attention to is how closely this bull-bear spread resembles the price action of the SP500.
There is a slight lag in that resemblance, owing to the data tabulation and reporting lags inherent to publishing any surveys of how... Read More
News

- Interview w/ Sherman by MarketViews

7Min Audio Interview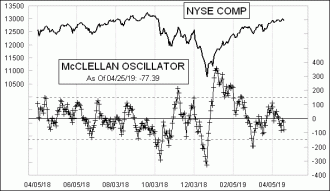 | | | |
| --- | --- | --- |
| 04/25/2019 | Issues | Volume(000s) |
| McC OSC | -77.391 | -101749 |
| Sum Index | 3879.996 | 2403445 |
Download Latest Reports
(Subscription Required)

Created 1969, the McClellan Oscillator is recognized by technical analysts as the essential tool for measuring acceleration in the stock market. Using advance-decline statistics, it gives overbought and oversold indications, divergences, and measurements of the power of a move.

Free Chart In Focus Email