Pull the trigger with confidence.

We look deeper into market trends. Our analysis puts our readers ahead of price movements... and ahead of the public. For over 40 years, institutional investors and individual traders have relied on our forecasts. Get the edge you've been missing.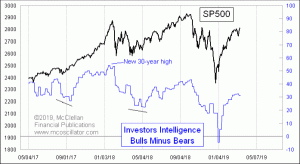 Most of the behavior of market sentiment indicators is driven by what prices do. This week's chart is a case in point, showing the spread between the bullish and bearish percentages as reported by Investors Intelligence. The attribute of these data that I want to call attention to is how closely this bull-bear spread resembles the price action of the SP500.
There is a slight lag in that resemblance, owing to the data tabulation and reporting lags inherent to publishing any surveys of how... Read More
News

- Interview w/ Sherman by MarketViews

7Min Audio Interview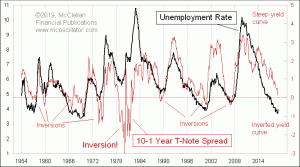 Back in February 2007, former Fed Chairman Ben Bernanke actually said the following:
"I think the yield curve could be inverted for a considerable period without significant implications for the economy as a whole, yes--- possibly for some banks, but not for the economy as a whole." He said that in testimony before the Senate Banking Committee. To our knowledge, Dr. Bernanke has not been stripped of his degree in economics for that comment, as he rightfully should be.
This week's chart... Read More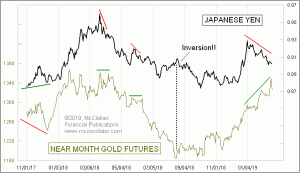 Gold prices recently swooped up to a rather spiky looking top, and on Feb. 21 a big drop started the work of unwinding that blowoff. It was a good looking spike upward as far as gold itself was concerned. But it did not come with confirmation from other prices which tend to move in sympathy with gold.
This week's chart compares gold futures prices to the Japanese yen. Most of the time the two of them move together. But occasionally they disagree, and that is when things get... Read More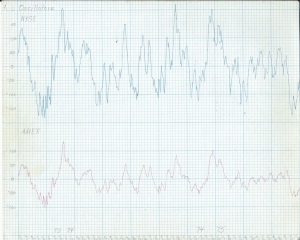 It was 50 years ago in 1969 that my parents created what later became known as the McClellan Oscillator. So this week, I thought I would share a little bit of that history, and offer a look at how it was done back then.
My father Sherman McClellan is still alive and doing well at age 84, and I get the privilege of collaborating with him every day on our McClellan Market Report newsletter and our Daily Edition. My mother Marian McClellan passed away from cancer in 2003. The important... Read More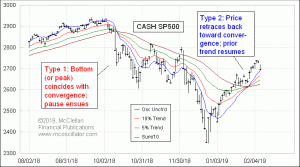 One of the chart features that I discuss quite often in my Daily Edition is what we call a "rainbow convergence". It is named for the point on the chart where all of the pretty moving average type lines come together. Some of those indicators may be new to some readers, so you can get a quick tutorial on what they mean at this article.
A rainbow convergence can be important to watch because the way that prices behave as it is happening gives us information about what lies ahead. There... Read More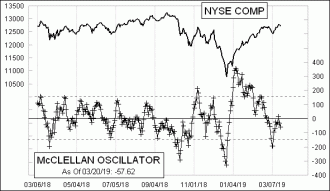 | | | |
| --- | --- | --- |
| 03/20/2019 | Issues | Volume(000s) |
| McC OSC | -57.615 | -20165 |
| Sum Index | 3844.539 | 2634125 |
Download Latest Reports
(Subscription Required)

Created 1969, the McClellan Oscillator is recognized by technical analysts as the essential tool for measuring acceleration in the stock market. Using advance-decline statistics, it gives overbought and oversold indications, divergences, and measurements of the power of a move.

Free Chart In Focus Email