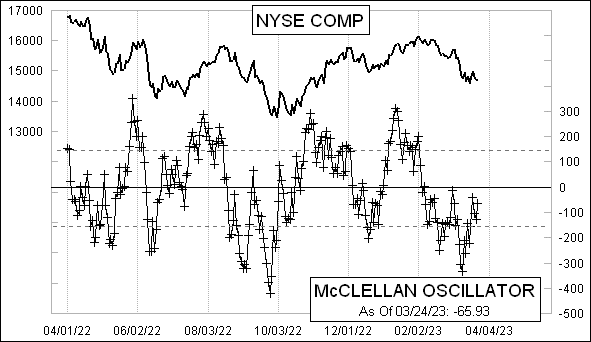 NYSE McClellan Oscillator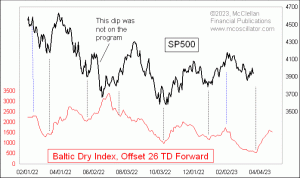 The Baltic Dry Index (BDI) makes for an interesting but imperfect leading indicator for the movements of stock prices. I don't know exactly why this works, and why occasionally it stops working, but the relationship has been going on for years and so at some point one just stops asking why.

In this week's chart, the plot of the BDI is shifted forward in the chart by 26 trading days. I have used 24TD before, and at the moment a 26TD lag time seems to be working better. I do this shift... Read More
NYSE: 03/24/2023
Issues
Volume(000s)
Advances
1863
2796189
Declines
1134
1680273
Difference
729
1115916
10% Trend
-251
. 187
-730993
5% Trend
-185
. 257
-546275
McC OSC
-65
. 931
-184718
PRIOR McC OSC
-126
. 722
-302447
SUMM Index
-259
. 189
-3800287
PRIOR SUMM Index
-193
. 259
-3615569
A-D for OSC UNCH
-317
-916 *
A-D for OSC=0
1001
2779 *

*million shares

DJIA Close
32237.53
PRIOR Close
32105.25
DJIA CHG
132.28
DOW Price OSC
-357.98
PRIOR DOW Price OSC
-364.59
Price OSC UNCH'D
32088.72

Daily Oscillator Data
(.xls)
Extended Data
All of this data, plus a lot more, is available on our Daily Edition along with charts and analysis. See our Market Reports page to get the bigger picture.
Market Breadth Data Notes
We use WSJ/Barron's data for our final breadth numbers. Calculations made on numbers from other sources will show a slightly different result.
We wait until late in the day in order to have access to the "final" numbers.
This reflects final readings for the indicators covered.
Values for indicators calculated using preliminary numbers released just after the close usually differ slightly from these numbers.
We usually recommend that readers keep their own data for themselves, but this is a useful way to check and see if your numbers agree with ours.
Starting 3/8/2012:
NYSE Up Volume & Down Volume data will report composite trading volume.
3/7/2012 and before:
Reports NYSE floor trading volume, as has been our long standing practice.