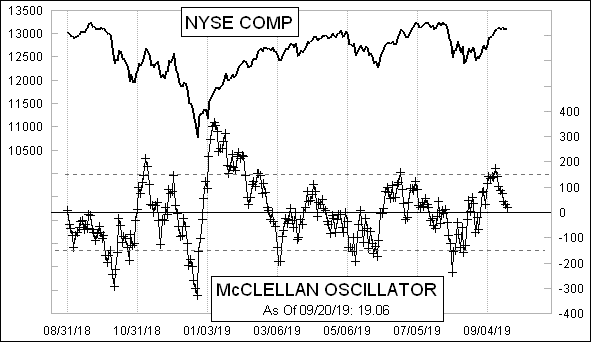 NYSE McClellan Oscillator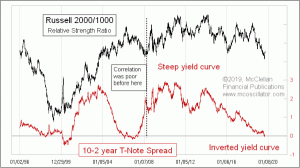 Back on August 22, I wrote here about how the spread between the 10-year T-Note yield and the 3-month T-Bill yield gives us a leading indication that is relevant for small cap relative performance. This time, I look at the "yield curve" in a different way, via the spread between 10-year and 2-year yields.
The 10-year to 3-month spread is a leading relationship for small cap relative performance, but the 10-2 spread is a coincident one. Sometimes analysts show that as a 2-10 spread, but it... Read More
NYSE: 09/20/2019
Issues
Volume(000s)
Advances
1506
2739734
Declines
1410
3109853
Difference
96
-370119
10% Trend
265
. 321
205645
5% Trend
246
. 257
181508
McC OSC
19
. 065
24137
PRIOR McC OSC
29
. 970
59078
SUMM Index
3290
. 985
1597844
PRIOR SUMM Index
3271
. 921
1573707
A-D for OSC UNCH
284
230 *
A-D for OSC=0
-97
-253 *

*million shares

DJIA Close
26935.07
PRIOR Close
27094.79
DJIA CHG
-159.72
DOW Price OSC
168.83
PRIOR DOW Price OSC
169.63
Price OSC UNCH'D
26965.73

Daily Oscillator Data
(.xls)
Extended Data
All of this data, plus a lot more, is available on our Daily Edition along with charts and analysis. See our Market Reports page to get the bigger picture.
Market Breadth Data Notes
We use WSJ/Barron's data for our final breadth numbers. Calculations made on numbers from other sources will show a slightly different result.
We wait until late in the day in order to have access to the "final" numbers.
This reflects final readings for the indicators covered.
Values for indicators calculated using preliminary numbers released just after the close usually differ slightly from these numbers.
We usually recommend that readers keep their own data for themselves, but this is a useful way to check and see if your numbers agree with ours.
Starting 3/8/2012:
NYSE Up Volume & Down Volume data will report composite trading volume.
3/7/2012 and before:
Reports NYSE floor trading volume, as has been our long standing practice.