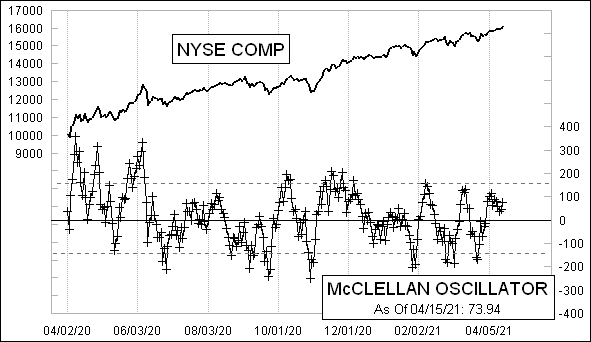 NYSE McClellan Oscillator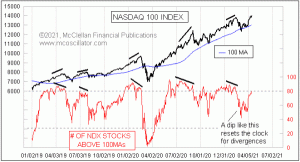 The Nasdaq 100 Index (NDX) is finally back to making new all-time highs, something that the SP500 has been doing more regularly in 2021. The NDX suffered a painful dip in February 2021, as big tech suddenly fell out of favor. Now those stocks are back in favor once again.
This week's chart shows an indicator which measures how many of the NDX stocks are above their own 100-day simple moving averages (100MA). When I first set out in 1999 to compile all of the data to compute this... Read More
NYSE: 04/15/2021
Issues
Volume(000s)
Advances
2081
2053161
Declines
1202
1870486
Difference
879
182675
10% Trend
367
. 365
193603
5% Trend
293
. 422
218535
McC OSC
73
. 943
-24932
PRIOR McC OSC
47
. 915
-25605
SUMM Index
3268
. 726
2409735
PRIOR SUMM Index
3194
. 783
2434667
A-D for OSC UNCH
441
169 *
A-D for OSC=0
-1038
667 *

*million shares

DJIA Close
34035.99
PRIOR Close
33730.89
DJIA CHG
305.10
DOW Price OSC
585.55
PRIOR DOW Price OSC
572.28
Price OSC UNCH'D
33867.52

Daily Oscillator Data
(.xls)
Extended Data
All of this data, plus a lot more, is available on our Daily Edition along with charts and analysis. See our Market Reports page to get the bigger picture.
Market Breadth Data Notes
We use WSJ/Barron's data for our final breadth numbers. Calculations made on numbers from other sources will show a slightly different result.
We wait until late in the day in order to have access to the "final" numbers.
This reflects final readings for the indicators covered.
Values for indicators calculated using preliminary numbers released just after the close usually differ slightly from these numbers.
We usually recommend that readers keep their own data for themselves, but this is a useful way to check and see if your numbers agree with ours.
Starting 3/8/2012:
NYSE Up Volume & Down Volume data will report composite trading volume.
3/7/2012 and before:
Reports NYSE floor trading volume, as has been our long standing practice.