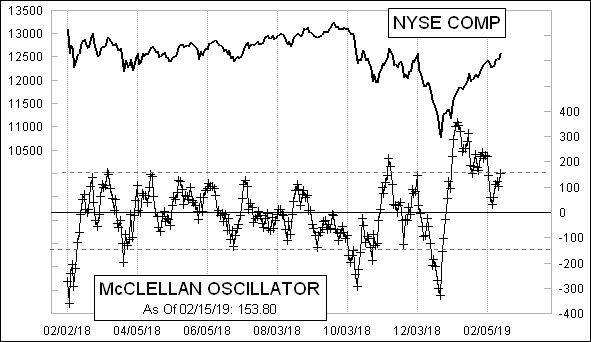 NYSE McClellan Oscillator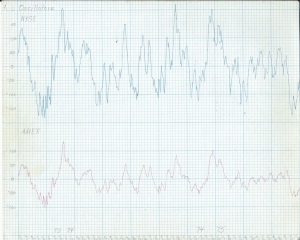 It was 50 years ago in 1969 that my parents created what later became known as the McClellan Oscillator. So this week, I thought I would share a little bit of that history, and offer a look at how it was done back then.
My father Sherman McClellan is still alive and doing well at age 84, and I get the privilege of collaborating with him every day on our McClellan Market Report newsletter and our Daily Edition. My mother Marian McClellan passed away from cancer in 2003. The important... Read More
NYSE: 02/15/2019
Issues
Volume(000s)
Advances
2293
2960512
Declines
656
577645
Difference
1637
2382867
10% Trend
614
. 563
670513
5% Trend
460
. 764
469899
McC OSC
153
. 799
200614
PRIOR McC OSC
102
. 102
111035
SUMM Index
4223
. 446
2893467
PRIOR SUMM Index
4069
. 647
2692853
A-D for OSC UNCH
768
871 *
A-D for OSC=0
-2308
-3141 *

*million shares

DJIA Close
25883.25
PRIOR Close
25439.39
DJIA CHG
443.86
DOW Price OSC
318.70
PRIOR DOW Price OSC
288.01
Price OSC UNCH'D
25390.29

Daily Oscillator Data
(.xls)
Extended Data
All of this data, plus a lot more, is available on our Daily Edition along with charts and analysis. See our Market Reports page to get the bigger picture.
Market Breadth Data Notes
We use WSJ/Barron's data for our final breadth numbers. Calculations made on numbers from other sources will show a slightly different result.
We wait until late in the day in order to have access to the "final" numbers.
This reflects final readings for the indicators covered.
Values for indicators calculated using preliminary numbers released just after the close usually differ slightly from these numbers.
We usually recommend that readers keep their own data for themselves, but this is a useful way to check and see if your numbers agree with ours.
Starting 3/8/2012:
NYSE Up Volume & Down Volume data will report composite trading volume.
3/7/2012 and before:
Reports NYSE floor trading volume, as has been our long standing practice.