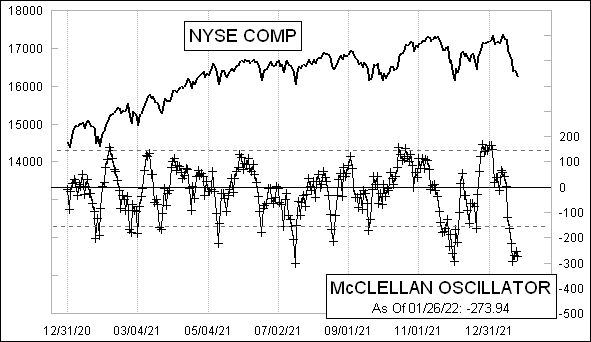 NYSE McClellan Oscillator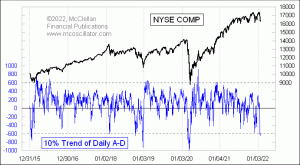 Back in December 2021, fears about the debut of the Omicron Variant (yes that was just 6 weeks ago) caused a sharp stock market selloff and an oversold condition on a lot of indicators. I wrote about one of them at this link, and it is worth another look now with this week's chart.
To review briefly, the 10% Trend of the daily Advance-Decline (A-D) difference is one of the components of calculating the McClellan Oscillator. See this link. We still employ the originalist terminology first... Read More
NYSE: 01/26/2022
Issues
Volume(000s)
Advances
1081
1971236
Declines
2323
3598014
Difference
-1242
-1626778
10% Trend
-658
. 274
-842046
5% Trend
-384
. 338
-490153
McC OSC
-273
. 936
-351893
PRIOR McC OSC
-254
. 217
-324523
SUMM Index
-377
. 957
-1734487
PRIOR SUMM Index
-104
. 21
-1382593
A-D for OSC UNCH
-932
-1194 *
A-D for OSC=0
4547
5844 *

*million shares

DJIA Close
34168.09
PRIOR Close
34297.73
DJIA CHG
-129.64
DOW Price OSC
-229.26
PRIOR DOW Price OSC
-176.09
Price OSC UNCH'D
35054.35

Daily Oscillator Data
(.xls)
Extended Data
All of this data, plus a lot more, is available on our Daily Edition along with charts and analysis. See our Market Reports page to get the bigger picture.
Market Breadth Data Notes
We use WSJ/Barron's data for our final breadth numbers. Calculations made on numbers from other sources will show a slightly different result.
We wait until late in the day in order to have access to the "final" numbers.
This reflects final readings for the indicators covered.
Values for indicators calculated using preliminary numbers released just after the close usually differ slightly from these numbers.
We usually recommend that readers keep their own data for themselves, but this is a useful way to check and see if your numbers agree with ours.
Starting 3/8/2012:
NYSE Up Volume & Down Volume data will report composite trading volume.
3/7/2012 and before:
Reports NYSE floor trading volume, as has been our long standing practice.