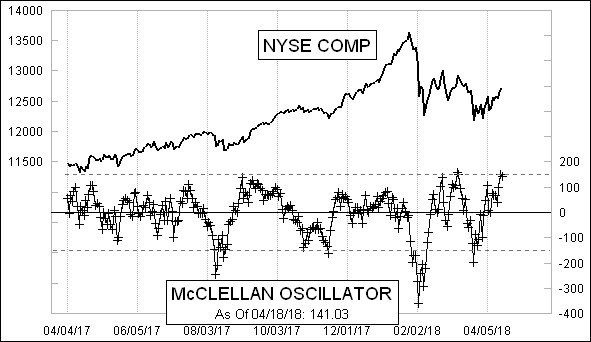 NYSE McClellan Oscillator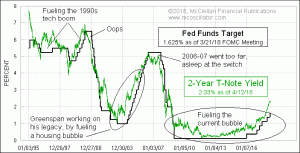 Make me Emperor for a day, and I would compel the FOMC to outsource interest rate policy to the bond market. Why should we pay 12 experts, most with expensive Ivy League PhD degrees, to do what the bond market can do far more efficiently (and cheaply)?
This week's chart compares the 2-year T-Note yield to the stated Fed Funds target rate. The FOMC has actually said that the target rate is 1.5% to 1.75%, so I'm splitting the difference by calling it 1.625%. What this chart shows is that... Read More
NYSE: 04/18/2018
Issues
Volume(000s)
Advances
1626
2023636
Declines
1309
1282511
Difference
317
741125
10% Trend
337
. 790
429373
5% Trend
196
. 761
228728
McC OSC
141
. 030
200645
PRIOR McC OSC
149
. 668
192974
SUMM Index
1698
. 340
481473
PRIOR SUMM Index
1557
. 310
280828
A-D for OSC UNCH
479
630 *
A-D for OSC=0
-2342
-3383 *

*million shares

DJIA Close
24748.07
PRIOR Close
24786.63
DJIA CHG
-38.56
DOW Price OSC
-116.60
PRIOR DOW Price OSC
-142.36
Price OSC UNCH'D
24296.04

Daily Oscillator Data
(.xls)
Extended Data
All of this data, plus a lot more, is available on our Daily Edition along with charts and analysis. See our Market Reports page to get the bigger picture.
Market Breadth Data Notes
We use WSJ/Barron's data for our final breadth numbers. Calculations made on numbers from other sources will show a slightly different result.
We wait until late in the day in order to have access to the "final" numbers.
This reflects final readings for the indicators covered.
Values for indicators calculated using preliminary numbers released just after the close usually differ slightly from these numbers.
We usually recommend that readers keep their own data for themselves, but this is a useful way to check and see if your numbers agree with ours.
Starting 3/8/2012:
NYSE Up Volume & Down Volume data will report composite trading volume.
3/7/2012 and before:
Reports NYSE floor trading volume, as has been our long standing practice.