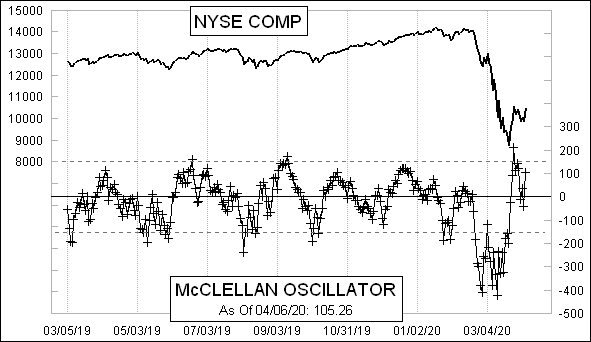 NYSE McClellan Oscillator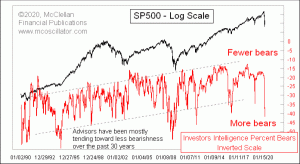 The past 3 weeks have seen a huge surge in the bearish percentage among the investment advisors and newsletter writers in the Investors Intelligence survey. Often these data are shown as the spread between the bulls and the bears, but for this week I thought it would be informative to look at just the bears alone. And to better correlate with price action, I have plotted those data on an inverted scale in the chart above.
One important point to note in this chart is how these data have... Read More
NYSE: 04/06/2020
Issues
Volume(000s)
Advances
2733
5806608
Declines
276
632722
Difference
2457
5173886
10% Trend
-106
. 383
-89922
5% Trend
-211
. 642
-481692
McC OSC
105
. 259
391770
PRIOR McC OSC
-39
. 106
104565
SUMM Index
-2063
. 753
-8342851
PRIOR SUMM Index
-2169
. 12
-8734621
A-D for OSC UNCH
-1
302 *
A-D for OSC=0
-2106
-7534 *

*million shares

DJIA Close
22679.99
PRIOR Close
21052.53
DJIA CHG
1627.46
DOW Price OSC
-1555.44
PRIOR DOW Price OSC
-1670.98
Price OSC UNCH'D
20548.65

Daily Oscillator Data
(.xls)
Extended Data
All of this data, plus a lot more, is available on our Daily Edition along with charts and analysis. See our Market Reports page to get the bigger picture.
Market Breadth Data Notes
We use WSJ/Barron's data for our final breadth numbers. Calculations made on numbers from other sources will show a slightly different result.
We wait until late in the day in order to have access to the "final" numbers.
This reflects final readings for the indicators covered.
Values for indicators calculated using preliminary numbers released just after the close usually differ slightly from these numbers.
We usually recommend that readers keep their own data for themselves, but this is a useful way to check and see if your numbers agree with ours.
Starting 3/8/2012:
NYSE Up Volume & Down Volume data will report composite trading volume.
3/7/2012 and before:
Reports NYSE floor trading volume, as has been our long standing practice.