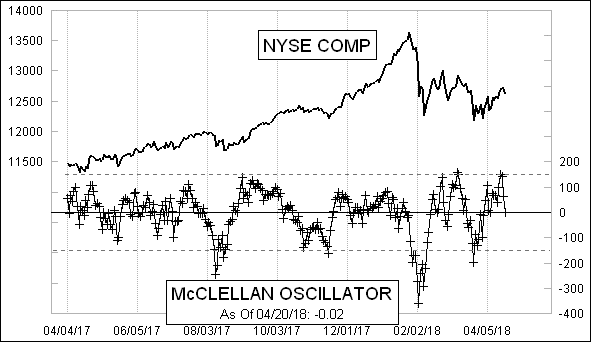 NYSE McClellan Oscillator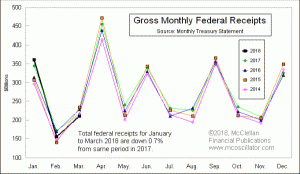 There is a very strong seasonal pattern in the way that tax receipts come into the federal government. The nice thing about that regularity is that it allows us to easily compare how the current year is doing versus past years.
In this week's chart, the black line represents the calendar year 2018 total federal receipts, as detailed in the Monthly Treasury Statement, or MTS. What we find is that 2018's receipts are running pretty similar to those of the past 4 years.
This is an... Read More
NYSE: 04/20/2018
Issues
Volume(000s)
Advances
979
1135390
Declines
1960
2188659
Difference
-981
-1053269
10% Trend
75
. 970
176967
5% Trend
75
. 992
119195
McC OSC
0
. 021
57772
PRIOR McC OSC
61
. 789
132756
SUMM Index
1760
. 107
672002
PRIOR SUMM Index
1760
. 128
614229
A-D for OSC UNCH
76
235 *
A-D for OSC=0
76
-921 *

*million shares

DJIA Close
24462.94
PRIOR Close
24664.89
DJIA CHG
-201.95
DOW Price OSC
-92.00
PRIOR DOW Price OSC
-98.16
Price OSC UNCH'D
24348.38

Daily Oscillator Data
(.xls)
Extended Data
All of this data, plus a lot more, is available on our Daily Edition along with charts and analysis. See our Market Reports page to get the bigger picture.
Market Breadth Data Notes
We use WSJ/Barron's data for our final breadth numbers. Calculations made on numbers from other sources will show a slightly different result.
We wait until late in the day in order to have access to the "final" numbers.
This reflects final readings for the indicators covered.
Values for indicators calculated using preliminary numbers released just after the close usually differ slightly from these numbers.
We usually recommend that readers keep their own data for themselves, but this is a useful way to check and see if your numbers agree with ours.
Starting 3/8/2012:
NYSE Up Volume & Down Volume data will report composite trading volume.
3/7/2012 and before:
Reports NYSE floor trading volume, as has been our long standing practice.