Chart In Focus
JOLTS Data Stumble, but A-D Line Says Don't Worry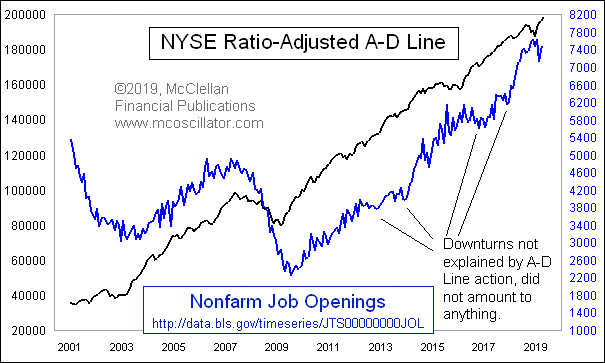 May 09, 2019
Free Chart In Focus email
Delivered to you every week
There was a small dip in the number of job openings in February 2019, causing a bit of alarm among some labor economists. But it recovered part way in March, the latest month for which data are available. And the continued upward movement of the NYSE Advance-Decline Line says that we should not be concerned about that dip in job openings.
The Bureau of Labor Statistics (BLS) publishes these data each month in their Job Openings and Labor Turnover Survey (JOLTS). They make these estimates based on a survey of 16,000 nonfarm businesses and government establishments, selected from among 9.1 million establishments compiled by the Quarterly Census of Employment and Wages program. There is a whole lot of statistical modeling involved, and recent years' releases show significant revisions compared to data reported a few years ago, as part of the BLS's ongoing efforts to refine seasonal and other factors which affect the data. So no one should take the numbers literally or assume that they are exactly right.
Still, they are the data we have, and that we get to analyze. And most would agree that it is good news that the trend is still upward and to the right for job openings. While the history of these data only goes back to late 2000, the interesting point for us is the very strong correlation between the A-D Line and the JOLTS data. More importantly, when there is a dip in the JOLTS numbers which is not confirmed by the A-D Line, it usually resolves itself with the JOLTS numbers resuming their march higher.
The A-D Line is a great indicator of financial market liquidity. So what this relationship really reveals is that keeping the financial markets healthy and liquid is important for employment. Someone alert the FOMC.
Where the rising numbers of job openings runs into a problem is that it has been outpacing the numbers of unemployed persons. The next chart shows that those two lines crossed starting in March 2018, and they remain that way now.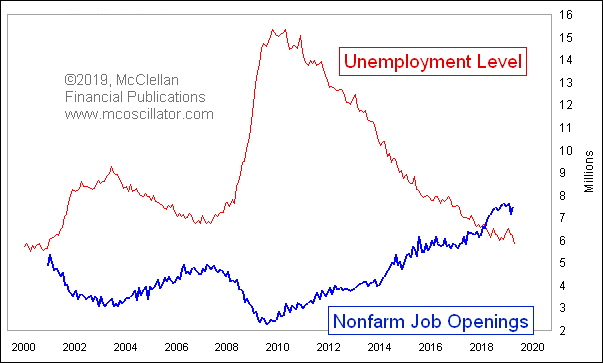 At some point, a company will give up on trying to hire a worker to fill an opening if there are no qualified workers, and that company will turn to other venues to acquire the labor it needs. That could be through automation, or going overseas where there is labor available. How and when companies will start doing that en masse is a subject for a labor economist to address, and I do not have any unique insights about that subject.
What I do have is an A-D Line which is continuing to rise, and that gives us some decent assurance that we are not yet at the end of this current economic and labor expansion.
Tom McClellan
Editor, The McClellan Market Report

Related Charts