Chart In Focus
Lumber Says Economic Slowdown Not Complete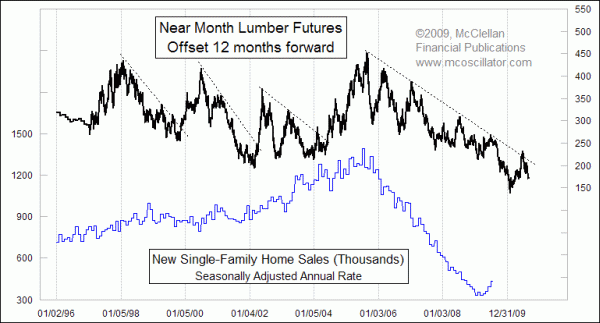 August 28, 2009
Free Chart In Focus email
Delivered to you every week
One way to use wood to predict the future is to mill it flat and make a Ouija Board. A better way is to use lumber prices to tell us what the economy is going to do. I have found that lumber prices do a great job at forecasting several important economic indicators ahead of time, including interest rates and home sales data.
It was big news this past week that new home sales had increased in July, leading some real estate watchers to become more optimistic about the future for home prices. It helped that the federal government has been awarding tax credits to first time home buyers, and so that program likely explains part of the uptick in the numbers of new home sales. The Case-Shiller home price index also moved up in its most recent reporting month of June, confirming this strengthening of the real estate market.
Unfortunately (or not, if you still want to buy a cheaper home), the leading indication from lumber prices says that we are not yet at the point when housing should make its real upturn. The strength in housing that we have seen this summer is just the echo of some temporary strength in lumber prices a year before, just ahead of the final plunge. What this means is that there should be another shoe to drop in the housing market. The bottom for home sales (and thus for prices too) is due to arrive in January 2010. And the rather tepid rebound in lumber prices this year says that we should see a similarly tepid rebound for home sales.
Tom McClellan
Editor, The McClellan Market Report