Chart In Focus
McClellan Oscillator for Corporate Bonds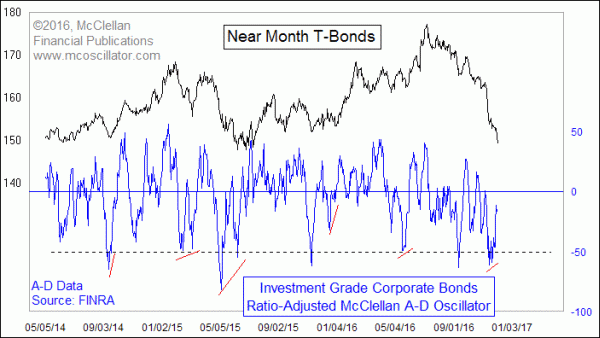 December 01, 2016
Free Chart In Focus email
Delivered to you every week
The sharp selloff recently in T-Bond prices has bled over into "investment grade" corporate bonds. But signs from the data on those bonds now suggest that the bond market is at an oversold extreme.
The McClellan Oscillator that my parents created back in 1969 is usually used for the Advance-Decline data on NYSE-listed stocks. But it can be used on any other sort of market breadth data. FINRA reports such data on corporate bonds every day at this link. They also make historical data lookups available, albeit one day at a time, so unless you are adept at using Python or some other platform for harvesting such information, it can be a difficult proposition to build a database of such data.
But if you are willing to go through the trouble, the result can be an interesting set of data, which I have used to create this week's chart above. This is a Ratio-Adjusted McClellan Oscillator (RAMO) for the high-grade (versus high yield, or junk) bonds whose breadth data is reported by FINRA.
This RAMO has just recently plunged to a very deep oversold level, reflecting the strong downward acceleration in the bond A-D data. And now more importantly, we have a bullish divergence, with bond prices making a lower low but this Oscillator making a higher low. That shows a waning of the downward momentum, and is a setup for a rebound.
The companion tool to the McClellan Oscillator is the McClellan Summation Index, which changes each day by the value of the McClellan Oscillator. Persistent negative Oscillator readings bring about a deep oversold reading in the Summation Index, which is what we are seeing now: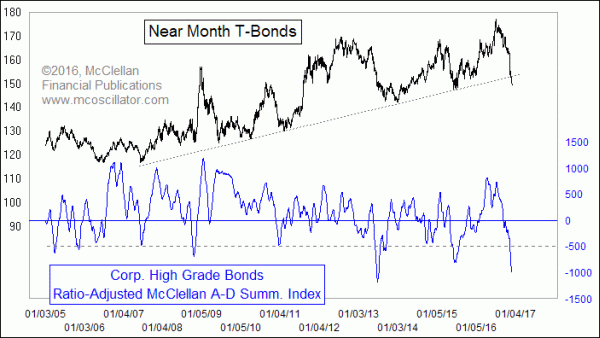 This chart goes all the way back to the beginning of FINRA's Bond A-D data. Yes, it is true that prices have broken down through the long rising bottoms line, which on its own should be a bearish message. But the Summation Index shows us that this decline has had to exhaust itself to a huge degree just to get there, and so that leaves little remaining selling pressure to prosecute the breakdown even further. The most likely outcome now is a sharp snapback rally, as bond traders realize that perhaps their fears were just a little bit overdone.
Tom McClellan
Editor, The McClellan Market Report

Related Charts