Chart In Focus
Nasdaq's Rapid Pop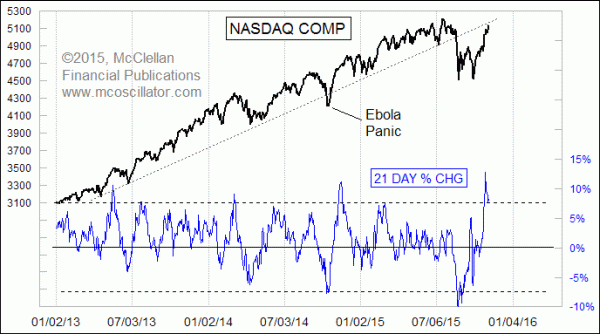 November 05, 2015
Free Chart In Focus email
Delivered to you every week
The stock market rebound which started from the Sep. 29, 2015 low has been a lot more robust than a lot of people expected (including me). The big-cap Nasdaq-listed tech stocks have led the way, interestingly leaving behind the smaller cap stocks that comprise most of the Nasdaq list.
Because the Nasdaq Composite Index ($COMPQ) is capitalization-weighted, those bigger companies have much more of an influence on driving the value of the index. Their gains have pushed it up close to a new all-time high; the Nasdaq 100 Index which is made up only of the biggest 100 non-financial stocks on the Nasdaq has already made it to a higher high.
The point in this week's chart is that the Nasdaq's gains may well be a case of going too far too fast. The indicator in the chart is a very simple one, measuring the percentage change from the index value 21 trading days before. This same indicator is sometimes referred to as "rate of change" (ROC), or "momentum". You can see your own copy of this chart at this link.
When this indicator goes up above around +8%, it signals a short term blowoff up move which merits a giveback of some sort. That giveback process does not have to commence right away just because of this indicator getting to an overbought level, but pullbacks do pretty reliably arrive after such readings.
The current instance is all the more interesting because it appears just as the Nasdaq Comp is returning to the underside of its broken uptrend line. Testing a broken trendline is a normal event following a breaking of the line, and so the overbought 21-day percent change reading makes the argument that it will be very difficult right at the moment for the Nasdaq Comp to climb back up on top of that line.
Tom McClellan
Editor, The McClellan Market Report

Related Charts