Chart In Focus
Pause Coming For The Rise In Interest Rates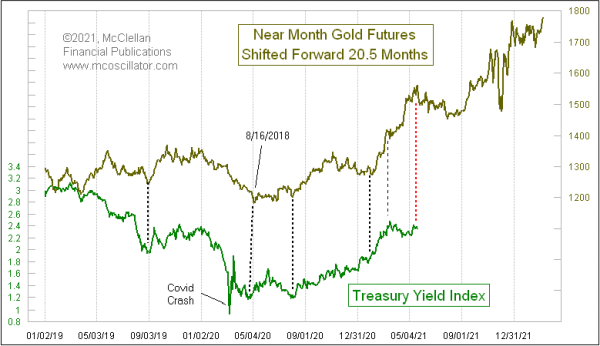 May 21, 2021
Free Chart In Focus email
Delivered to you every week
As detailed here back in January 2021, the movements of gold prices tend to get echoed about 20-1/2 months later in the movements of long term interest rates. The replication of gold's movements is not perfect, and we really should not expect perfection almost 2 years later. The fact that gold's movements have any correlation at all to interest rates 20-1/2 months later is a pretty amazing discovery.
The relationship says that bond yields should be reaching a temporary top right about now. The next few months should see a gentle retreat for interest rates, lasting until a bottom due around mid-August 2021. Then a much bigger rise in interest rates is set to commence, if gold's message continues to be correct about the timing of moves in interest rates.
This chart does not show all of the recent history of gold prices, which went up to a top above $2000 in August 2020. The reason for that intentional omission is to allow us to better see the texture of the gold price plot as it applies to the immediate future. To trade bonds now does not require us to pay attention to gold's message for 20-1/2 months from now. We can pay attention to that as it gets closer. What matters now is to see what gold was doing 19-20 months ago to give us a hint about what lies ahead for interest rates.
It is that message which says that we should expect a pause in the rise of interest rates. But that pause will only be a temporary interruption of the path of much higher yields in the latter part of 2021 and into 2022. Remember that yields move inversely to prices, so a yield rise is a price drop for bonds.
Tom McClellan
Editor, The McClellan Market Report

Related Charts