Chart In Focus
A Gasoline BOTTOM?!!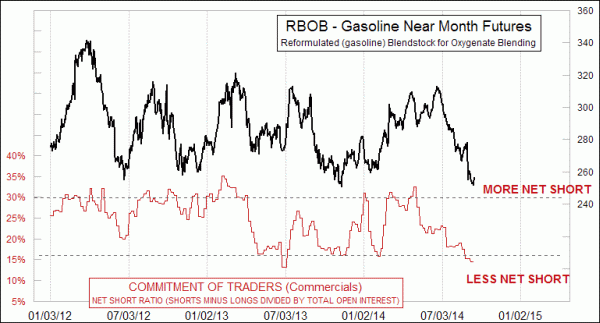 September 18, 2014
Free Chart In Focus email
Delivered to you every week
The terrorist group ISIS (AKA the un-Islamic non-state "Army of Satan") is tying up major portions of oil-rich Mesopotamia. Russian troops are occupying portions of Ukraine, which is a key portal for oil and natural gas to transit to western Europe. And the oil-rich portions of Africa have been subjected to a viral outbreak that is causing the rich and educated in that region to flee for their lives, leaving the others to fend for themselves.
So of course this geopolitical condition means that oil and gasoline prices should plummet, naturally.
In the 3 months since a peak at $3.13/gallon in June 2014, the RBOB futures contract has plummeted 18%. These are futures market prices, not including taxes and dealer mark up. Your mileage may vary. This is hardly the behavior of prices that one might expect in the middle of a geopolitical crisis, not to mention several arriving simultaneously. But what we think that the market should do is not necessarily what the market actually does.
The drop in oil and gasoline prices has gotten commodities followers to believe that the real world rules don't matter, that prices are headed to zero, and that we should all buy Winnebagos. But commercial traders are saying otherwise, which is the message of this week's chart.
Commercial traders of RBOB gasoline futures have been continuously net short since 2005, So the game consists of evaluating the current position relative to the recent values. On that accord, what we are seeing is a bottom-worthy condition that should lead to rising gasoline prices in the weeks ahead. Sorry, all you Winnebago and motorboat owners. Don't shoot the messenger.
The latest Commitment of Traders (COT) Report data say that the commercial traders of RBOB futures have been abandoning their once-big net short position in a big way. They are now down to one of their lowest net short positions since 2010. That's another way of saying that the "smart money" traders are betting on a rebound in gasoline prices.
Whenever this group's net position gets down this low, RBOB gasoline futures prices tend to rally over the succeeding weeks. That's a fancy way of saying that your gasoline prices are likely to be headed higher soon. How much higher, and for how long, are not questions that this one datum can answer. And one single sentiment indication does not preclude the possibility of global peace breaking out, leading to even lower oil and gasoline prices. But the odds are in favor of an uptick for gasoline prices.
Every Friday in our Daily Edition, we evaluate the relevant messages from the weekly Commitment of Traders (COT) Report. To learn more about that publication, please visit http://www.mcoscillator.com/market_reports/. New readers can even sign up for a 2-week trial.
Tom McClellan
Editor, The McClellan Market Report

Related Charts