Chart In Focus
AAII Survey Readings Nearing A Bottom Indication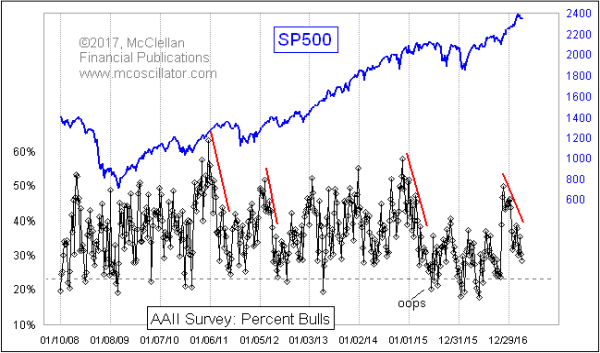 April 07, 2017
Free Chart In Focus email
Delivered to you every week
The bullish percentage in the AAII survey has been falling during 2017, and is getting close to a low enough reading to mark a good bottoming indication for prices. That fits well with my expectation from other sources for a low this month. But before you go interpreting the AAII numbers, it is best to understand some of their quirkiness.
The raw data come from responses by AAII members on that organization's web site, and the data are published weekly at http://www.aaii.com/files/surveys/sentiment.xls. One problem that this survey method creates is that there is not a consistent pool of respondents week to week. And they are not randomly selected either; the pool consists of people who decide that they want to participate. That can create some inconsistencies.
The next point to understand is that price tops usually do not come at the same time as the highest readings for the bullish percentage. Instead, divergences at price tops are the conditions to look for. We just had a pretty classic looking divergence at the March top, but one could have called a divergence before then and seen prices continue up into that top.
So marking a top can be difficult, while very low readings for the bullish percentage are better indicators of price bottoms. But even there, inconsistencies can arise. Back in August 2015, we saw the lowest bullish reading in 2 years, and rather than marking a bottom it coincided with a top just ahead of the China-fueled minicrash later that month.
In a similar way, a high reading for the bearish percentage is usually a great marker for a price bottom. But they too can be inconsistent. That same August 2015 instance saw a high percentage of bears, just as prices were topping. That's not how one wants a contrary sentiment indication to work.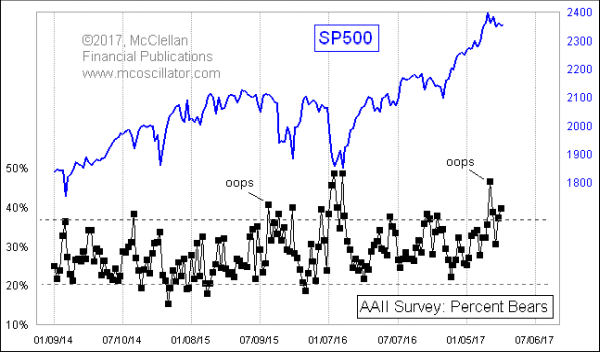 We just saw a high reading again for the bearish percentage reported on March 9, the same week that saw the top for the SP500. That's not how a sentiment indication is supposed to work. The crowd is supposed to be wrong more reliably.
Since that high reading for the bearish percentage, the crowd backed off from it, and just now the data are reestablishing a more proper high bearishness reading that fits better with what prices are doing. That should work well with the price bottom which is due next week, as discussed in our latest McClellan Market Report.
The point to take away is that the AAII numbers can be a useful insight to keep in mind along with other indications. But they can also bring some inconsistencies that can burn you if you count too much on this single measure of the crowd sentiment.
Tom McClellan
Editor, The McClellan Market Report

Related Charts