Chart In Focus
NAAIM Exposure Index Highest In A Year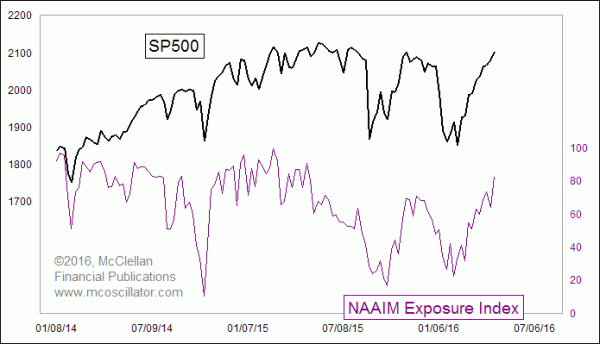 April 21, 2016
Free Chart In Focus email
Delivered to you every week
The rally off of the February 11 low for the SP500 has been called "the most hated rally" by some in the financial media. But it does not appear to be hated according to a lot of the sentiment indicators.
The National Association of Active Investment Managers (NAAIM) publishes its NAAIM Exposure Index weekly, and is a survey of its members concerning their average exposure to US equity markets. In theory, it could range from -200 to +200, if all managers were leveraged short or leveraged long. In practice, however, its lifetime range (since 2006) is 3 to 104.
This week, it jumped up to its highest reading since April 2015, showing that these market-timing managers are now at the most fully invested in a year. The SP500 has equaled the magnitude of its move off of the low following the August 2015 minicrash, but these managers are more bullish on this rebound than they were on the last one.
This matches the rapid swing we have seen in the Investors Intelligence bull-bear spread: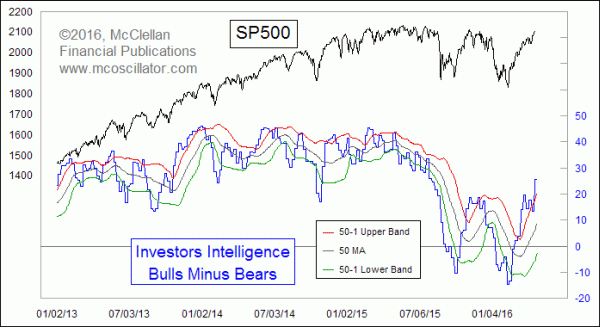 It too has now eclipse the high it saw in November 2015, although it is a long way from getting back to the high range which persisted from 2013 to early 2015.
When sentiment swings rapidly from one extreme to another, it can leave a bit of a vacuum in its wake, opening up an opportunity for prices to move back against that trend just to run the overly tight trailing stops, and create a bit more fear. That can be a healthy development for the uptrend. Having everyone get too bullish too fast exhausts all of the fuel needed to keep an uptrend going.
Tom McClellan
Editor, The McClellan Market Report

Related Charts