Chart In Focus
Too Fast of a Sentiment Swing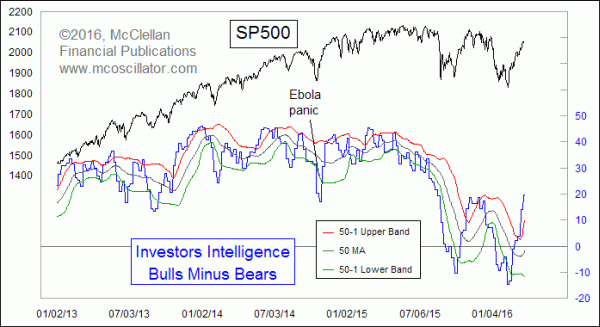 March 23, 2016
Free Chart In Focus email
Delivered to you every week
The latest numbers out of Investors Intelligence show that bulls are now up to 47.4% in their survey of newsletter writers and investment advisors, and bears are now down to 27.8%. That takes the bull-bear spread up to its largest value since August 2015, and higher than the peak seen at the November 2015 price highs.
On its own, the bull-bear spread is not yet at a super-high level which would mandate a price top. But there is additional information in the rapid nature of the change in that spread. When the bull-bear spread changes rapidly in a short amount of time, that can sometimes be more important than the actual level to which the spread moves.
Here is a chart showing the 4-week change in the bull-bear spread: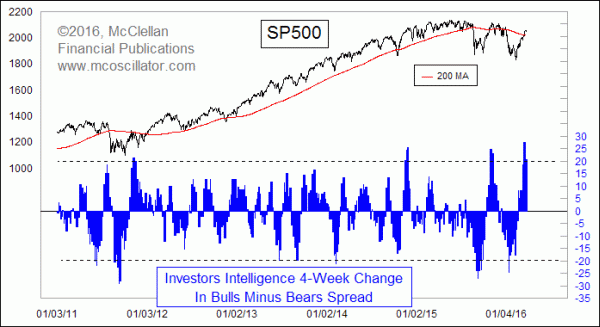 When it goes outside of +/-20 percentage points, it says that sentiment has changed too quickly, and thus an exhaustion event is happening. Following the exhaustion event should be a rest period lasting a few weeks, to restore balance to The Force. It is hard to keep a move going after this indicator posts this sort of rare and extreme reading. It is much more sustainable when excessive bullishness or bearishness develops more slowly.
For a deeper understanding, here is a further look back showing the behavior of this indicator from 2005-2011: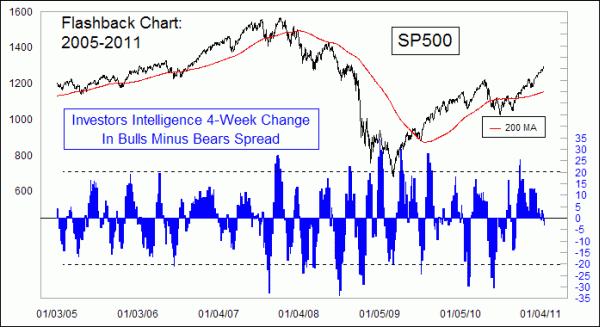 Usually an excursion above +20 percentage points is a call for prices to pause and correct. Occasionally, however, there have been excursions above +20 that have been followed by continued upward movement. Those appeared during strong upward trends, and were extremely rare. The much more common interpretation has been that a reading above +20 is a sign of too much eagerness, and that a corrective period is needed to set up for whatever is next.
Tom McClellan
Editor, The McClellan Market Report

Related Charts