Chart In Focus
Copper Spike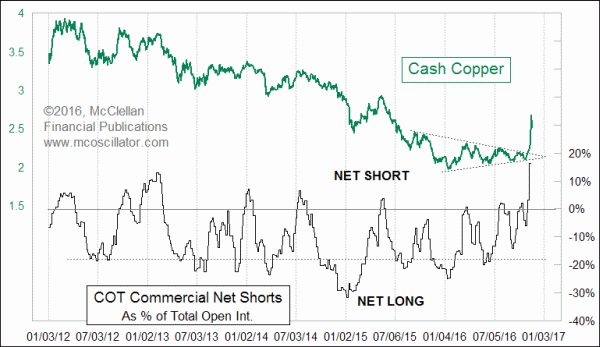 November 17, 2016
Free Chart In Focus email
Delivered to you every week
Investors worldwide have suddenly caught a whiff of inflation, and have overreacted in response. That overreaction can be seen quite well in the big spike higher in copper prices, a rally which is now starting to be dismantled.
One fascinating aspect to that rally is that it came out of a big symmetrical triangle structure. Symmetrical triangles carry that name because the slopes of the upper and lower boundary lines are roughly equivalent. Such triangles are indecision structures, and most often resolve with a resumption of the trend direction which preceded the triangle. But sometimes they can be reversal structures, as was the case this time.
Such triangles are also useful because they can give you a measuring objective for the breakout move. Find the height of the triangle at the first point when it can characterized gets measured, and then that distance is added to (or subtracted from, for downturns) the price level at which prices break out of the triangle. In this current case, the height of the spike up move met the upside objective from that triangle, so that task can be checked off the list.
We can also see in this week's chart that the big money "commercial" traders of copper futures have responded to this price spike by upping their shorts in a big way.
Over the years, the commercial traders have been net long much more than they have been net short, and so just seeing them get up to around a neutral stance has been a pretty good sign of a top for copper prices. So this latest reading being way up above neutral is a big statement. Indeed, this is the commercials' biggest net short position as a group since all the way back at the big 2011 price top.
Also really interesting is how different the price plots look comparing copper prices in dollars versus in Chinese yuan: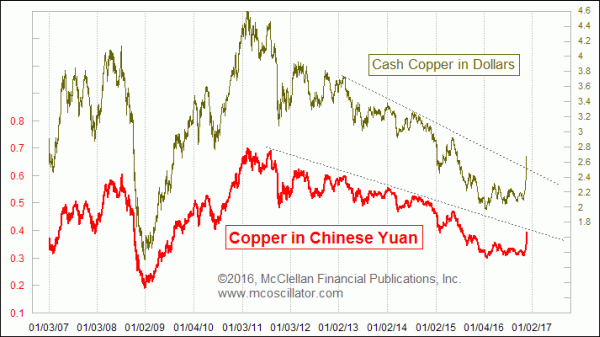 The dollar price plot has broken its long downtrend line. But the equivalent line in the plot of copper priced in yuan has not been broken. I view that as a big non-confirmation, and expect to see most or all of this spike get given back.
Tom McClellan
Editor, The McClellan Market Report

Related Charts