Chart In Focus
Crude Oil Commercial Traders Bet on Decline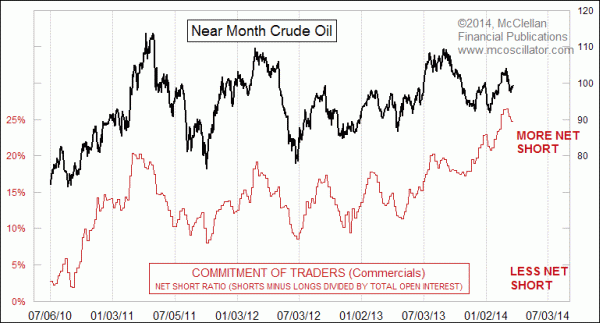 March 27, 2014
Free Chart In Focus email
Delivered to you every week
It has not caught much attention in the financial media, but just 3 weeks ago, the commercial traders of crude oil futures reached an all-time high in terms of a net short position. The commercial traders are the big money, and thus they are presumed to be the smart money. But quite often they will get to a skewed position well ahead of a turn for crude oil prices.
Commercial traders include producers and big oil consuming companies like refiners. As a group, they have been continuously net short since early 2009. There can still be useful information gained from examining the data, and evaluating the relative size of the net short position can help define where the price highs and lows are. In 2011 and 2012, when this indicator got down near +10% (of total open interest), that was a good sign that oil prices were bottoming. And readings up near 20% were associated with meaningful price highs.
It is normal for the commercial traders to increase their short positions as prices rise, and to pare then as prices fall. The most recent high was at +26%, well above everything else in recent years. And the fact that we saw such a rise in their net short position on hardly any change in prices is particularly compelling. It is a big statement by the commercial traders that they believe crude oil prices are headed lower. This group usually ends up being right, although they can often be early in getting to a skewed position. What that tells me is that we are seeing a much more significant long-term indication of oil price direction, and the message is that prices should come downward.
The Commitment of Traders (COT) Report is published every Friday by the CFTC, reflecting positions which traders held as of the preceding Tuesday. So every Friday in my Daily Edition, I review the relevant and compelling signs from that week's COT data. Sometimes there is not a compelling message for every type of futures contract, because the various groups of traders are not at a skewed position. But when they do get to a big skewed position, as gold did in December 2013 for example (see link below), then it can be a very important message to pay attention to.
Tom McClellan
Editor, The McClellan Market Report

Related Charts