Chart In Focus
GLD Assets Spike Higher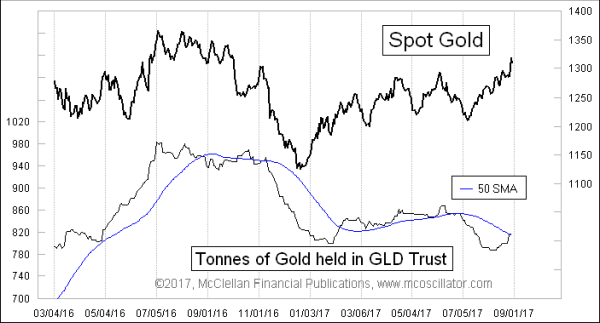 August 31, 2017
Free Chart In Focus email
Delivered to you every week
A late-August surge in gold prices has finally attracted traders back into SPDR Gold Shares (GLD), the largest of the gold bullion ETNs. This week's chart looks at total assets held in the GLD Trust, which issues or redeems shares as needed in order to keep the share price as close as possible to the net asset value. Those shares are backed by actual gold bullion, and so issuing more shares means more gold in their vaults. Data are available from http://www.spdrgoldshares.com/usa/historical-data/.
The amount of assets held by GLD tends to fluctuate in step with gold prices. This makes sense, since rising gold prices tend to attract more attention, and get more people excited about owning gold. But even though gold prices bottomed back on July 11, total assets did not hit bottom until Aug. 7, as traders were not believing in the gold rebound at first.
Now they are really believing in it, and so we are seeing a big rush into GLD. The rapid pace of that rush is hard to see on the chart above, and so here is another way to see it: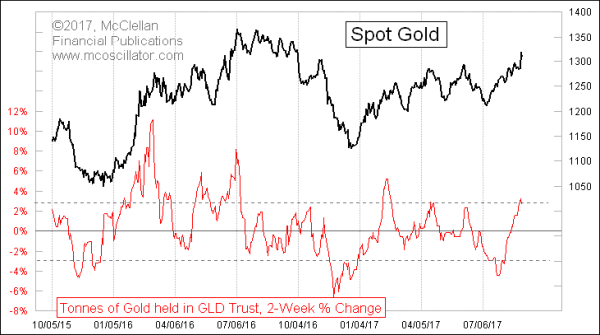 When the 2-week rate of change (ROC) moves up or down by greater than about 3%, that tends to mark an exhaustion point for gold prices. Sometimes the actual gold price top associated with that exhaustion arrives a few days later, but the point is that prices typically correct because they have outrun their fuel supply.
This current high reading in the 2-week ROC does not necessarily mean that the uptrend in gold has to be done. But it does say that gold prices have run pretty far and are vulnerable to a pullback.
Tom McClellan
Editor, The McClellan Market Report

Related Charts