Chart In Focus
Gold Priced In Euros Has Gone Quiet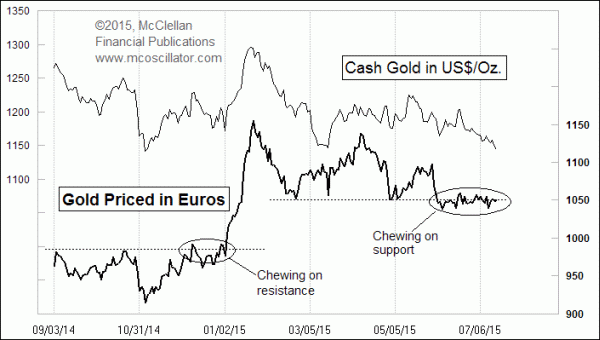 July 17, 2015
Free Chart In Focus email
Delivered to you every week
I like to tell my newsletter readers that if you want to look at a chart of gold prices to get a good technical perspective, then look at gold as priced in euros, rather than in dollars.
The dollar price of gold just does not seem to behave in as orderly a fashion from a chartist's perspective as the euro price does. The dollar price does not particularly exhibit support and resistance behavior at static price levels, and its trendline breaks seem to come after the corresponding trendline break in the chart of prices measured in euros.
Whether or not anyone can explain the reason for this difference in behavior, that does not change the existence of the behavior. Our job as technicians is to figure out the market's rules of physics rather than to impose our own rules on the market and insist that those rules must work.
The dollar price of gold has been in a steady decline recently, and this is as I have been expecting ahead of the major 13-1/2 month cycle bottom which is ideally due in August. The real price bottom can arrive a month early or late, and still be considered to be "on time", so we are in the window now for that bottom.
But in euro price terms, the price of gold has been doing precisely nothing. Starting on June 3, the euro price has entered a very tight range, almost as it is being held still by some outside force. Over these past 6 weeks, all of the spot prices (measured in euros) have fallen within a range between €1039 and €1060.
This next chart looks at a 4-week range for the euro price of gold, and the current reading is the quietest since a similarly quiet period back in the summer of 2014. Prices then were being held tightly just below the €1000 level, and took a long time before they were finally able to break out above that overhead resistance.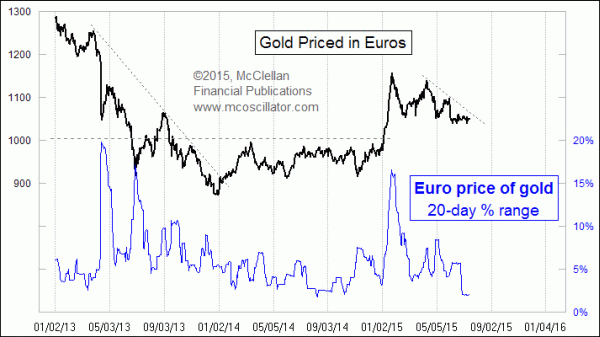 Eventually gold is going to leave the area of €1050/oz and go somewhere. Pretty soon it is going to encounter its declining tops line, which is working to "catch down" to where prices have already gone. That trendline break, if and when it comes, should precede a similar break in the dollar price chart, and would be a good point to notice for those willing to take the time to pay attention to gold prices in two different currencies.
Tom McClellan
Editor, The McClellan Market Report

Related Charts