Chart In Focus
Lumber Gets Its Mojo Back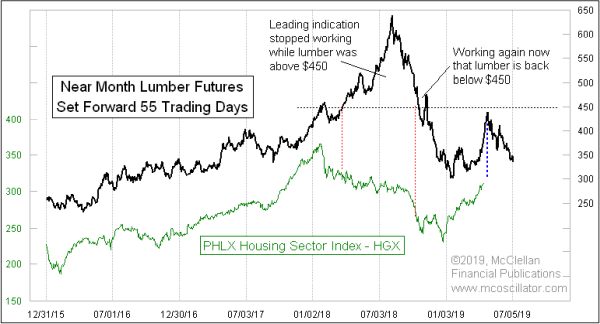 April 17, 2019
Free Chart In Focus email
Delivered to you every week
Back on March 22, I wrote here about how the price of lumber had lost its ability to correctly foretell several economic data series which tend to follow in lumber's footsteps. The big blowoff move up to the May 2018 top at 639, where lumber stayed for about a nanosecond, has not been getting replicated in the other data related to housing. My explanation of this is that it was not a pure supply/demand event, with messaging about what lies ahead for the other data series. It was, instead, a speculative blowoff move, spurred by the U.S. tariffs on Canadian softwood lumber which sent lumber consumers (e.g. big homebuilding companies) scrambling to lock in pricing and supply availability.
This week's chart reveals how that exogenous effect may be starting to get back to normal again. The movements of lumber futures prices tend to lead corresponding movements in the PHLX Housing Sector Index (HGX), but with a lag time of about 55 trading days. This relationship did not work so well in 2018, as lumber prices had been making the big blowoff up move and the corresponding collapse. But the relationship appears to be getting back into sync again now.
More data is always better for understanding market relationships, and the additional price data we have gotten lately shows what was really going in between these two. The leading indication relationship went off the rails at the point when lumber prices went up above about the 450 level, en route to that top at 639. The 450 level appears to be the threshold where lumber's message about strength or weakness in the economy reached a breaking point, and instead the high price of lumber started having an opposite meaning. It meant that housing related companies (and their stocks) were going to suffer because lumber was just too darned expensive. It was not a sign of economic strength when it was above 450, but rather of a significant constraint on the economy, or at least on how the economy is reflected by the housing market stocks.
Now that lumber is back down below 450, the relationship is starting to work again. And that is relevant right now because just over 55 trading days ago, lumber prices were topping at just below the 450 level. So if the leading indication is working again now, that should mean an imminent top for the HGX, and then a decline lasting for the next 2+ months.
The HGX Index has had a nice rise in 2019, rallying now 35% off of its Dec. 24, 2018 low. But if lumber is back to being right again about where housing stocks are headed, the next few months are not going to be as pleasant for that sector.
Tom McClellan
Editor, The McClellan Market Report

Related Charts