Chart In Focus
Lumber's Message For Interest Rates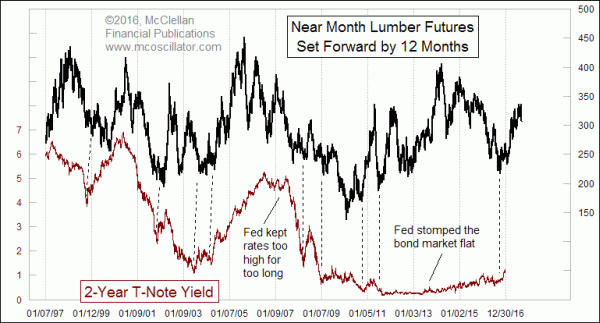 December 15, 2016
Free Chart In Focus email
Delivered to you every week
The FOMC is now finally allowing interest rates to start moving where the market has already said they should have gone. The 2-year T-Note Yield is already up to 1.27%, and the Fed is lagging behind in making an adjustment. I have shown before that this can be a problem, having the Fed lag behind the message from the 2-year T-Note yield.
The important message that the Fed apparently does not have any awareness of is that there are many more rate hikes in store. This week's chart shows how lumber prices tend to know what the Fed should do well ahead of the FOMC being aware. In the chart above, we can see that the 2-year T-Note yield tends to follow the path of lumber futures prices, with a lag time of about a year.
The fact that lumber prices have been trending higher over the past year conveys the message that interest rates should trend higher in 2017. This principle works most of the time, although when the Fed puts a thumb on the scale, the correlation can go awry.
The announcement on Dec. 14 of another quarter point rate hike suggests that the Fed is getting out of the thumb-on-scale mode, at least a little bit. And that should allow interest rates to follow the upward path of lumber prices in 2017.
So now you're wondering: won't higher rates have a negative effect on home purchases, mortgages, etc.? The answer is, yes of course. But not right away. It turns out that lumber prices also lead several data series related to housing, including the prices of housing stocks.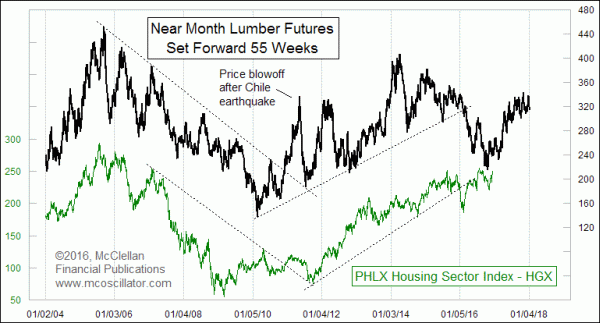 The next year should see rising prices for stocks related to homebuilding, as represented by the HGX Index. That might seem to be in conflict with the notion of rising interest rates, since higher rates make buying a home less affordable. But higher demand for housing tends to push up both home prices and home mortgage rates.
And there is a perverse kicker. Those nascent home buyers who have been on the fence about whether it is time yet to pull the trigger may see that the rising rates are taking their home affordability away, and so they could get in a rush to buy while they still can.
Economics is funny that way. The basic premise is that "people respond to incentives" but they do not necessarily have to respond in exactly the way that the economists determine that they should.
The bottom line is that higher lumber futures prices have meaning for both interest rates and housing related stocks' prices. And that message right now is about higher interest rates in 2017, and higher prices for housing related stocks.
Tom McClellan
Editor, The McClellan Market Report

Related Charts