Chart In Focus
Utilities Leading the Market Higher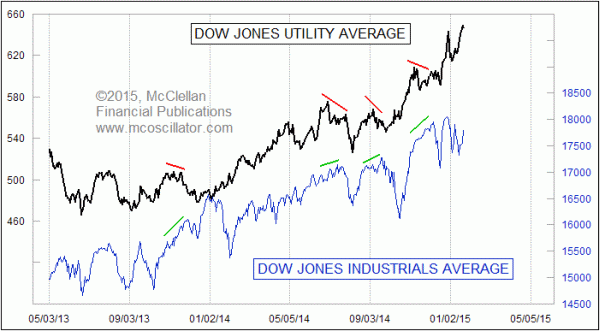 January 22, 2015
Free Chart In Focus email
Delivered to you every week
The news out of the European Central Bank on Jan. 22 helped to lift the major averages higher. The DJIA and SP500 have not yet made it back up to the level of their December 2014 highs, but the Dow Jones Utility Average has already pushed to a higher high. That promises more upside movement for the rest of the market.
It is not surprising that utilities stocks tend to move up and down in sympathy with all of the rest of the stocks. They are subject to many of the same forces of liquidity, and returns chasing. In spite of that general tendency, we do see differences in behavior sometimes, and those differences are worth paying attention to.
If the DJIA makes a higher high but the DJU makes a lower high, that sort of divergence usually leads to a selloff for the broader market. It is as if the utilities stocks can act as a canary in the coal mine, sniffing out liquidity problems ahead of time.
That is not the situation we are seeing now, though. With the DJU already up to a higher high, and leading the industrials higher, we are at least several days away from possibly having a bearish divergence, and that would only come into play after the DJIA has made a higher high. And this strength is to be expected now, as we are in a period of strong seasonality at the end of January, and we are also in the 3rd year of a presidential term which is nearly always bullish. In other words, the market is supposed to be going up now, and the DJU is confirming that a rally is what should be coming for the DJIA.
Tom McClellan
Editor, The McClellan Market Report

Related Charts