Chart In Focus
AAPL Still Following Its Quarterly Pattern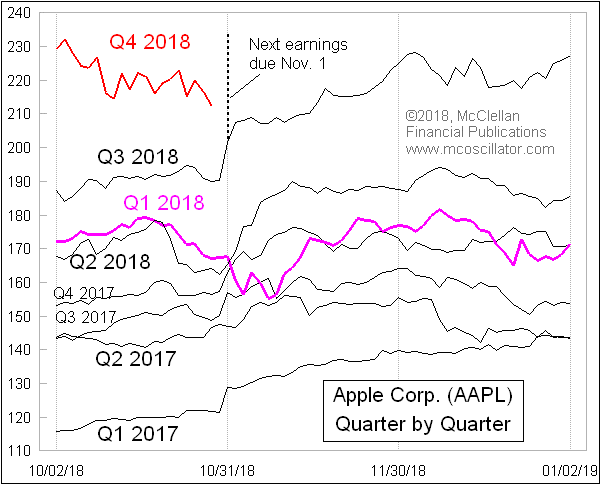 October 29, 2018
Free Chart In Focus email
Delivered to you every week
We are in a time when "normal" relationships are not working, and when any slight hint of misperformance is getting punished. So it is fascinating to see that AAPL's normal quarterly price behavior pattern is still "working", something I discussed here back in August.
AAPL's share price has a pretty regular pattern which plays itself out over each calendar quarter. Apple Corp. releases its quarterly earnings report usually on the 1st day of the month, one month after the end of the calendar quarter, and so the next one is due out Nov. 1.
In the standard pattern of price behavior, the release of that earnings report results in a post-release rally in AAPL's share price. The one glaring exception to this "rule" occurred in February 2018, when AAPL got caught up in the minicrash which followed the short-VIX squeeze in January 2018. That Q1 2018 price plot is highlighted in pink in this week's chart, to help accentuate just how different it was from the normal behavior.
Most of the time, the month leading up to the earnings release is a choppy sideways affair. Then there is a positive reaction in AAPL's share price to the earnings news, and that positive mood lasts until the 3rd month of the calendar quarter, when AAPL flattens out again and waits for the next upward stimulus. That is how it "usually" works, unless some big exogenous factor puts a thumb on the scale, like what happened in Q1 of 2018.
During the big selloff in October 2018, we have seen post-earnings selloffs in Amazon, AMD, Netflix, Alphabet (Google), and others. No amount of good news is good enough this month, or so it seems. So AAPL has a big challenge to survive this environment when it reports earnings after the close on Thursday, Nov. 1. Perhaps AAPL can be the spark which breaks the pattern of investors selling the big leaders no matter what the earnings report says. Its price behavior during the month of October seems to indicate that AAPL is following the typical quarterly pattern.
Tom McClellan
Editor, The McClellan Market Report

Related Charts