Chart In Focus
Bitcoin as Messenger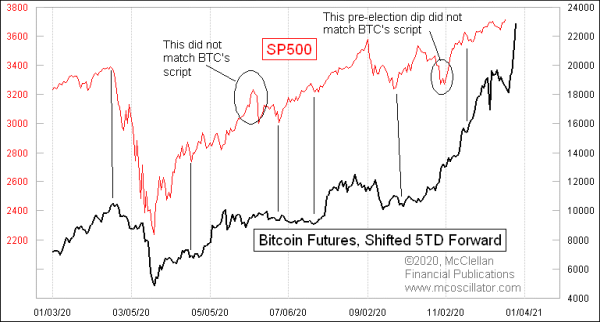 December 17, 2020
Free Chart In Focus email
Delivered to you every week
A lot of people look at Bitcoin as a great trading vehicle, and good for them (the ones who have been long this year). But Bitcoin prices have another value, as a messenger about what is coming for the stock market.
I looked at this relationship here back in January 2018, and again in May 2018, examining how the movements of Bitcoin prices were showing up after a varying lag time in the movements of the stock market. Back then, the lag time was anywhere from 49-56 calendar days. The recent change is that Bitcoins price movements have tightened up to just a 1 week lag time for the stock market.
That 5 trading day lag has worked for the most part throughout 2020. I do not know why it works at all, nor why it works at a 5TD lag, nor why the lag has shrunk itself from 8 weeks to just 1 week. I cannot explain it. But I can observe it and hopefully gain useful insights from it.
This 5-day lag relationship has gained increased importance this week, as Bitcoin prices have gone from the 18,000s to above 23,000 in just 5 trading days. The SP500 tends to echo Bitcoin's price movements with much more muted magnitudes, but this Bitcoin move is a pretty big deal. It comes upon news reports that big institutions like Goldman Sachs and JP Morgan are concluding that they had better join in the party, before the party runs away. FOMO (fear of missing out) exists, it seems, even at the institutional level.
The key for using this, or any other leading indication relationship, is that one should not expect the magnitudes of the price movements to be equal. Rather, it is about the timing of the dance steps. And if you get the timing of the up and down movements right, the magnitudes can take care of themselves.
One worry for the Bitcoin and stock market bulls is that Bitcoin prices might be blowing off to a spike top. That is a reasonable worry anytime one sees price movements which are as dramatic as this. On that topic, I have found a useful insight from looking at the Bitcoin futures market. It is an admittedly small part of the overall financial futures market, but size does not have to matter if the messaging is good.
What I have noticed is that when Bitcoin prices make a blowoff top, there is typically a corresponding blowoff spike in open interest in Bitcoin futures. That is an important insight, because there is no open interest spike at the moment.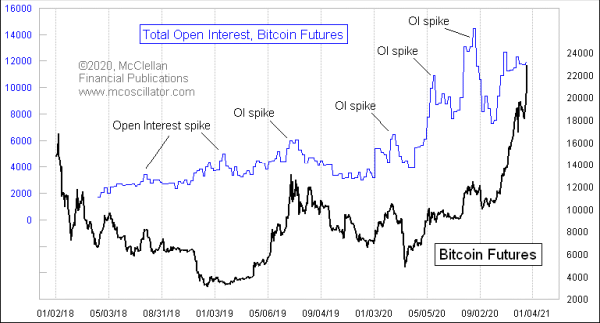 If this up move in Bitcoin prices was going to be a terminal move in the immediate future, then we should expect to see a rapid up move in open interest, and we are not seeing that (yet). The implication is that there is still more yet to come for this up move in Bitcoin prices, and thus for the up move in stock prices.
Tom McClellan
Editor, The McClellan Market Report

Related Charts