Chart In Focus
Bonds Turning Down From Top of Channel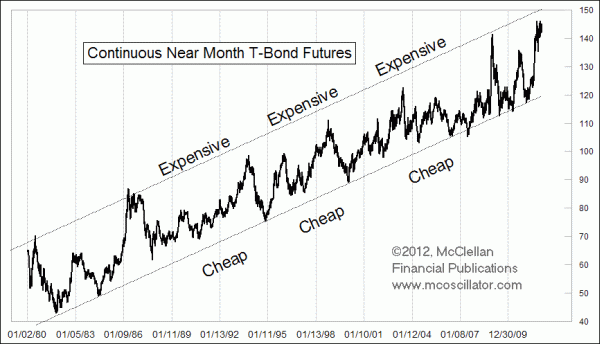 January 20, 2012
Free Chart In Focus email
Delivered to you every week
In a September 2010 Chart In Focus article, I showed this same 3-decade rising trend channel in T-Bond prices. The message then was that bond prices were getting up toward the "expensive" side of things, and afterward bond prices sure enough came back down to touch the bottom of that channel by the end of 2010.
Now the message is similar, except that all of the worries over European debt problems have pushed T-Bond prices up even higher toward "expensive" territory. And now with a deal reportedly getting worked out between Greece and its creditors over the size of the "haircut", traders are concluding that the supposed safety of T-Bonds does not merit as much premium as it used to.
At the same time, commercial traders of both T-Bond and T-Note futures are getting to a point of being net short in the biggest way that they have been in years. Commitment Of Traders (COT) Report data is something that I address every Friday in the Daily Edition. And commercial traders are also net long the euro in the biggest way in the history of that future contract. So the big smart-money traders are betting on a euro rebound and a T-Bond selloff.
You can sign up to get the Daily Edition as well as our twice monthly McClellan Market Report by visiting our Market Reports page. And new subscribers to our Daily Edition can get the first two weeks free.
Tom McClellan
Editor, The McClellan Market Report

Related Charts