Chart In Focus
COT Data Show A Bottom For Copper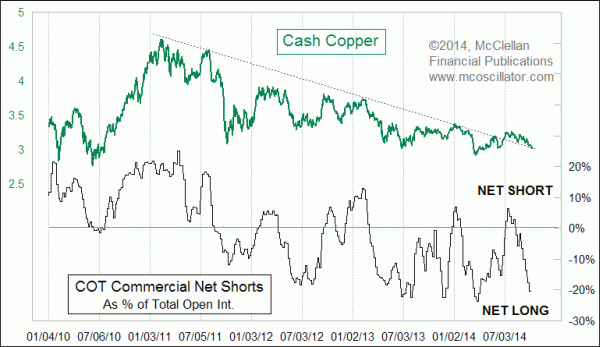 October 09, 2014
Free Chart In Focus email
Delivered to you every week
Last week I pointed out how the Commitment of Traders (COT) Report data for currencies were pointing to a big topping condition for the dollar. That top appears to have arrived, and if the dollar heads downward then that should provide a boost to prices for all sorts of commodities.
A similar message comes from the COT data on copper futures, where we find that the commercial (big, smart money) traders are net long in a huge way. That means as a group they are positioned for a big rally in copper prices. They are often early in adopting a big skewed position, but nearly always right in the end.
So to summarize, the smart money traders are betting on both a dollar decline, and a copper price rebound. Those two bets are actually the same thing, if we assume that a falling dollar happens, and that it causes commodities prices to rise.
From a price standpoint alone, copper has broken out above the declining tops line which dates all the way back to 2011. But that breakout never went anywhere, and copper prices have since retraced back downward to rest upon the top side of that broken trendline. Pulling back to test a broken resistance agent like that is actually fairly typical behavior, and ultimately bullish as long as the declining tops line now holds as a support agent.
With the commercial traders already at a huge net long position, it is more difficult for the bearish forces to break down through any significant support agent. Instead, copper is likely to move upward from here, with that rally fueled by the short-covering of the speculators who have been shorting it, and fueled as well by the unwinding of the dollar's blowoff top. Other metals should presumably move higher as well.
Tom McClellan
Editor, The McClellan Market Report

Related Charts