Chart In Focus
Crude Oil's 10-Year Message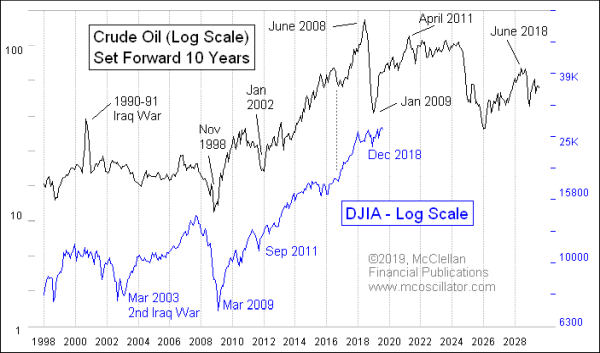 August 30, 2019
Free Chart In Focus email
Delivered to you every week
We currently have trade wars, presidential tweets, inversions in the yield curve, slowing earnings growth, decreasing corporate share buy-backs, and all manner of other problems affecting the stock market. And yet the long term message from crude oil prices says that the stock market ought to continue trending upward into 2021.
It is a fun attribute of crude oil prices that their movements give us a 10-year leading indication of what lies ahead for the stock market. I discovered this phenomenon this a few years ago when taking a long term look at crude oil prices on their own. I happened to notice that the long term pattern of crude oil prices looked an awful lot like that of the DJIA. So I put them on a chart together, and the result was less than satisfying. Sometimes they moved together, sometimes opposite, and sometimes there was no correlation at all.
It was only after I realized that crude oil's movements were getting repeated in the DJIA with a delay that the clouds opened up and the sun shone in. After some tinkering, I discovered that the lag time was approximately 10 years, which is the lag that is featured in this week's chart.
And this is not just a recent phenomenon. This next chart shows this 10-year offset comparison going back to 1900 (the DJIA was created in 1896). It reveals that the 10-year lag relationship has been working for the most part during the whole history of the DJIA.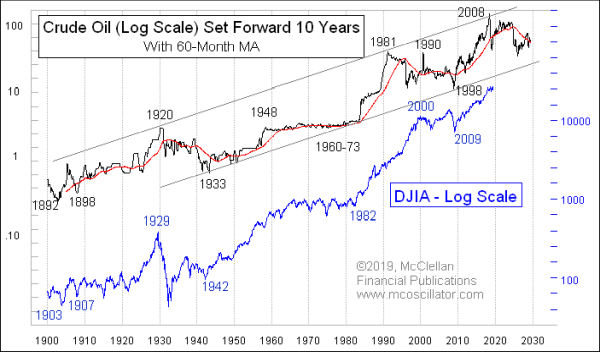 There are not a lot of chart phenomena and observations about which we can say that they have been "working" for more than 100 years, but this is one. We may not be able to identify exactly why this relationship "works", but after more than 100 years of a demonstrated relationship, at some point one stops asking the "why" question. It has already proven itself, even if we may not know the "why".
Crude oil prices reached a peak in April 2011. Looking 10 years forward, that implies a peak for stock prices in April 2021, right after the Jan. 20, 2021 inauguration of whoever wins the next presidential election. Crude oil's path after that April 2011 peak was not a pleasant one for the bulls, and this implies that whoever wins the election in Nov. 2020 is going to face an ugly time for the stock market and thus for the economy. And the big plunge in crude oil prices in 2014 (after OPEC gave up trying to control production of its members) means a big price drop for stocks in 2024, assuming that the relationship continues to work as it has for more than 100 years. So whichever party wins the White House in 2020 is likely to lose it in 2024, as a bear market is a proven bad feature for a party trying to win reelection.
For now, however, there is still an uptrend to ride toward the 10-year echo of oil's April 2011 top due in 2021. That trend won't be in a straight line, but it should nevertheless be upward. And it will be denied by the doubters all the way. When the doubters finally jump on board the bandwagon in 2021, you'll know that the time to step away has arrived.
Tom McClellan
Editor, The McClellan Market Report

Related Charts