Chart In Focus
Gold's Model Calls For Crude Oil Bottom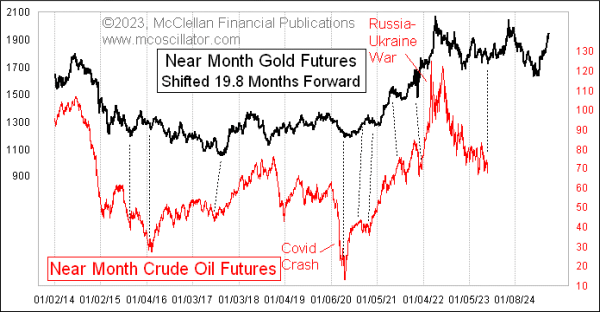 June 01, 2023
Free Chart In Focus email
Delivered to you every week
Gold is valuable, not just because you can sell it for a lot of money, but also because it gives us answers that we cannot get anywhere else. Gold serves as a great leading indicator for lots of things, leading the changes in grain prices by about 15 months, and foretelling the movements of oil prices by just under 20 months.
That is the trick revealed in this week's chart. The plot of gold prices is shifted forward by 19.8 months to reveal how gold's price movements get echoed later by similar movements in oil prices. It does not always work perfectly, but we should not expect perfection from something making its predictions that far in advance.
And the relationship can sometimes get disrupted when non-market forces put a thumb on the scale. The Russia-Ukraine War spiked oil prices up a lot, as the supply of Russian oil suddenly got cut off by countries who objected to Russia's invasion. That sent oil prices up to an initial peak which was a little bit early vs. gold's prediction. But oil prices balanced that out by making a double top with the twin tops centered on the ideal top date gold had suggested. That is an imperfect way to model oil prices, but a nice bit of symmetry after initially getting thrown off.
19-20 months ago, gold prices were making a rounding bottom before starting a slow advance toward an eventual blowoff top in March 2022. That top in gold prices equates to a November 2023 top for oil prices, assuming that the 19.8-month lag time continues working right. It has been functioning for several years, so it would be weird to see it suddenly stop working now. And then oil prices should see a meaningful decline in early 2024. Gold prices bottomed in September through November 2022, which equates to a bottom for oil prices due in May to August 2024.
Tom McClellan
Editor, The McClellan Market Report

Related Charts