Chart In Focus
How VIX Ends A Long Run of Low Values
July 27, 2017
Free Chart In Focus email
Delivered to you every week
With the VIX Index down in the 9s, and with valuations at historic extremes, investors are wondering how long this all can last. The short answer is, MORE.
The VIX Index made its all-time closing low of 9.31 back on Dec. 22, 1993. It has posted intraday values below that number in July 2017, but has not yet made a lower closing low. The most important point that history teaches us about these extreme low VIX readings is that the lowest VIX closing value seldom coincides with the highest price high. And the amount of time between those two events can vary wildly.
Here is a look back at that all-time low in 1993: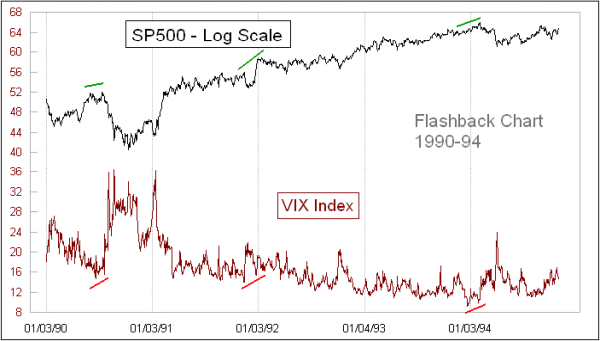 Notice that at each of the significant price tops in this period, the VIX was making a divergent higher low. So if one had understood this point back then, one could have observed the lower VIX levels and had some assurance that the top was not in at those moments.
But this principle has not always been perfect. Around the Internet Bubble top in 2000, there were none of these nice VIX divergences. Thankfully there were lots of other indications back then to tell us that the market was having problems.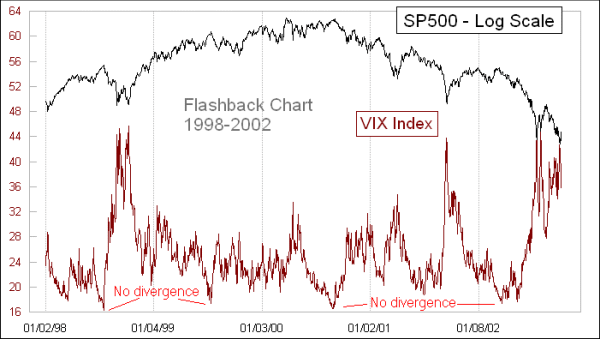 At the 2007 top, the VIX was back to giving us nice divergences to mark the price tops. And the old rule about seeing the VIX making lower lows was a good sign to stay long, expecting more uptrend for prices.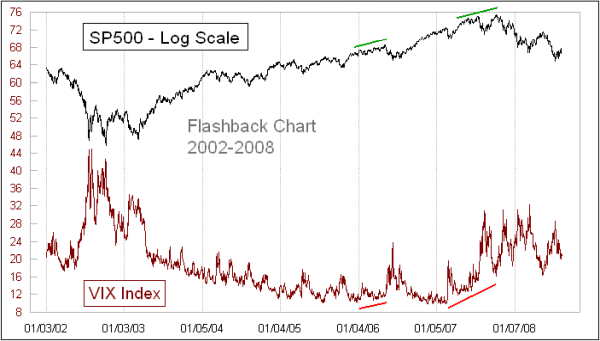 So it appears to matter whether we are in a period of strong liquidity, with the A-D Line making higher highs along with prices, versus an illiquid bubble blowoff condition like we saw around 2000. In a liquid market, an A-D Line divergence shows a loss of that liquidity, and the transition to a corrective period or an outright bear market. VIX divergences may have that same message.
Here is a final chart that zooms in on the most recent time period.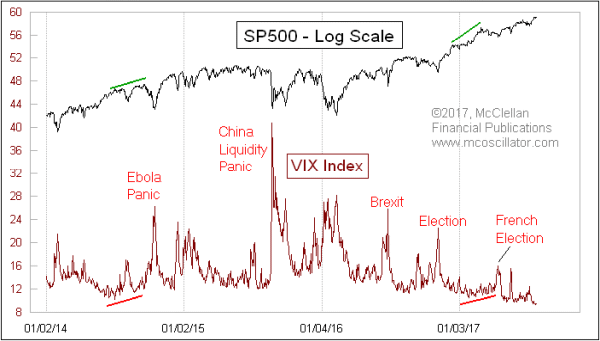 There have been some momentary bits of excitement along the way, but hardly any divergences. And the lower VIX lows now say that the uptrend in prices is not done yet.
Tom McClellan
Editor, The McClellan Market Report

Related Charts