Chart In Focus
Misplaced Optimism on Housing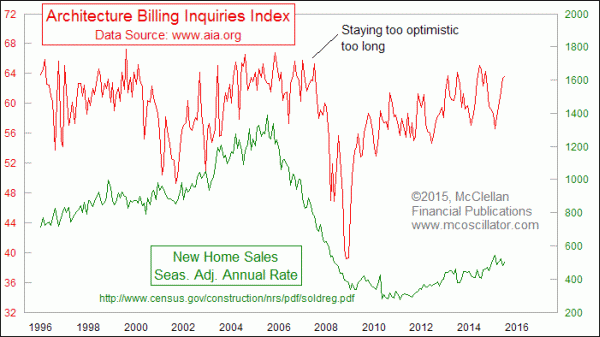 September 17, 2015
Free Chart In Focus email
Delivered to you every week
Recent data from the American Institute of Architects (AIA) shows that there is some gathering optimism about the future prospects for the housing and construction areas of the U.S. economy. The AIA's Architecture Billing Index data consist of 2 main series, one on actual billings sent to customers for actual architectural work, and the other known as the Inquiries Index. That latter one is shown in the chart above, and is derived from member firms' responses on the subject of customers making inquiries about potential work.
The Inquiries Index has been remaining high, and has spiked upward again after making a low in February. That surge in interest is seen by some as a sign of a pickup for the economy generally, and for the housing market in specific.
But this indication is contradicted by what we see in the plot of lumber prices.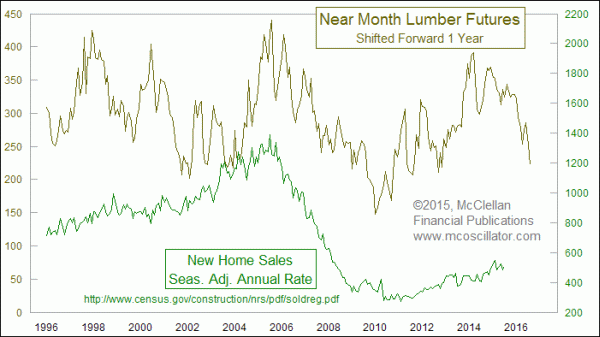 In this chart, it is important to note that I have shifted forward the plot of lumber futures prices by 12 months to reveal how lumber prices seem to foretell the movements of the rate of new home sales. That is important because lumber has been falling rapidly this year, which suggests that a corresponding drop in new home sales is in store over the next 12 months.
The magnitude of the drop in home sales does not have to match the magnitude of the down move we have just seen in lumber prices. But lumber generally gets the direction right.
The FOMC decided at its meeting on Sep. 17 not to raise short term interest rates. Fed Chairman Janet Yellen cited "global economic weakness", and the post-meeting announcement stated, "Recent global economic and financial developments may restrain economic activity somewhat and are likely to put further downward pressure on inflation in the near-term."
I don't know if the members of the FOMC pay any attention to lumber prices. But they should.
Tom McClellan
Editor, The McClellan Market Report

Related Charts