Chart In Focus
Strong Summation Index Promises Higher Highs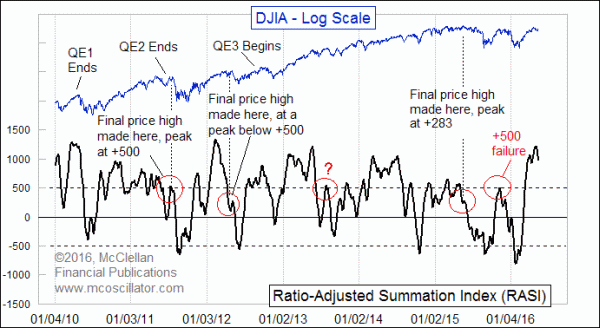 May 13, 2016
Free Chart In Focus email
Delivered to you every week
The strong breadth numbers which produced a new all-time high for the A-D Line this year also produced a really high reading for the Ratio-Adjusted Summation Index (RASI), the highest since 2012. And that action conveys to us the promise of higher price highs.
But it does not preclude a meaningful correction first, and we appear to be in the midst of that right now. The RASI is falling, as it typically does during corrective periods.
The basic point is that after a correction like we saw earlier this year, with the Feb. 11, 2016 price bottom, the RASI shows a strong market by rising well up above the +500 level. When the RASI can do that, we like to say that it signals that the new rally has demonstrated "escape velocity", like a rocket trying to leave Earth's gravity, and thus the price averages do not need to fall back down to test the prior low. More importantly, while the RASI may top out and lead to a corrective period, we are promised a higher high after that correction.
Exactly when that higher high comes, and how much higher, are not points revealed by the RASI. We have to turn to other tools to divine those. But the uptrend should be expected to continue until such time as there is a failure by the RASI to climb back up above the +500 level after dropping below it
Tom McClellan
Editor, The McClellan Market Report

Related Charts