Chart In Focus
VIX Spike Takes it Above All of its Futures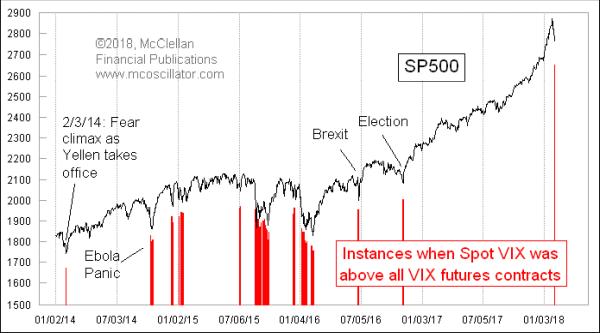 February 03, 2018
Free Chart In Focus email
Delivered to you every week
The scary selloff on Friday, Feb. 2 took price indicators down to oversold readings, and it took the VIX up to its highest reading since the November 2016 election. In the process, it also rose up above the price of all of its futures contracts. In an uptrend, that is a pretty rare occurrence.
The VIX Index is determined by how much volatility premium is getting priced into SP500 options, and so it reflects the relative degree of fear being felt by options traders.
VIX futures are different, and do not have a tie-in to any physical product, or even to any investment product. VIX futures are settled for cash at the VIX Index's value on the day of expiration. And so the price of any VIX futures contract is based simply on the bets that the VIX futures traders are willing to make. Seeing the VIX Index up above the level of all of the VIX futures contracts means that SP500 options traders are feeling more fearful now than the VIX futures traders think is warranted.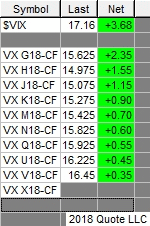 Most of the time, the VIX Index stays below all of its futures contracts. The futures traders have to price in a little bit of time-risk, in case the VIX Index rises by the time that the contract reaches expiration. As that expiration gets closer, the price of a VIX futures contract will slowly move toward wherever the VIX Index is.
During scary price declines, though, things get out of whack and the VIX Index can rise up above the level of some or all of its futures contracts. This week's chart shows those instances, and they are pretty rare.
In a corrective period like what we saw in late 2015, after the China-induced minicrash, we can see multiple days of the VIX being above all of its futures contracts before the market finally reaches a bottom. But when the SP500 is in an uptrend, like what we are arguably still in right now, these instances nearly always mark nice short term bottoms for stock prices.
Tom McClellan
Editor, The McClellan Market Report

Related Charts