Chart In Focus
A-D Line Divergence Again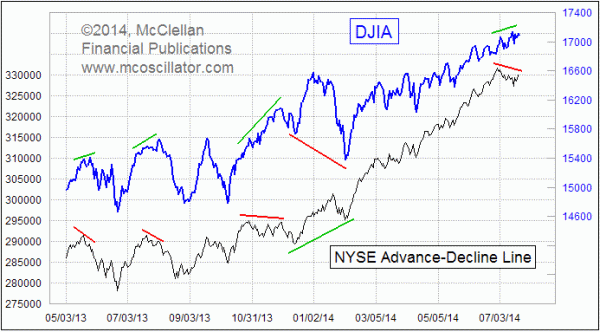 July 24, 2014
Free Chart In Focus email
Delivered to you every week
The Fed is still pumping liquidity into the banking system, albeit at diminished rates, and the large cap indices are still showing no signs of trouble, with the DJIA making higher highs and higher lows.
But when price indices make higher highs and the NYSE's A-D Line refuses to confirm, that condition usually leads to a meaningful selloff. That is the condition we are seeing right now, with a classic looking A-D Line divergence.
I should emphasize that this short term divergence is not the same as what we have seen at major price tops like 1987, 1990, 1998, and 2007, when the A-D Line peaked several months in advance of the final price highs.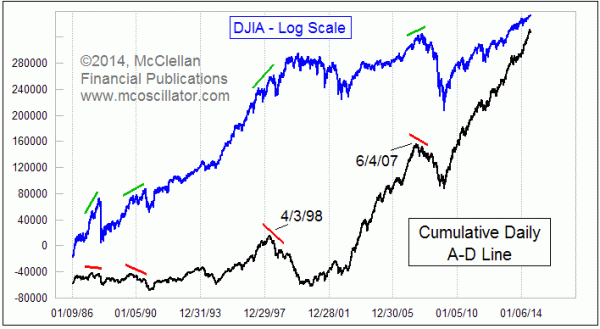 The current divergence is of a shorter term nature, and merely worth a more minimal price correction. If we do not see a higher A-D Line a few months from now, we can start to worry about the longer term implications of a larger divergence, but it would be premature now to jump to that conclusion.
Still, it is troubling to see this sign of liquidity problems developing at a time when the Fed is still pumping money into the system. It makes us wonder what will happen when the Fed shuts off the flow completely, which is scheduled to happen after October 2014.
Tom McClellan
Editor, The McClellan Market Report

Related Charts