Chart In Focus
Architecture Billings Index Flashes Warning on Economy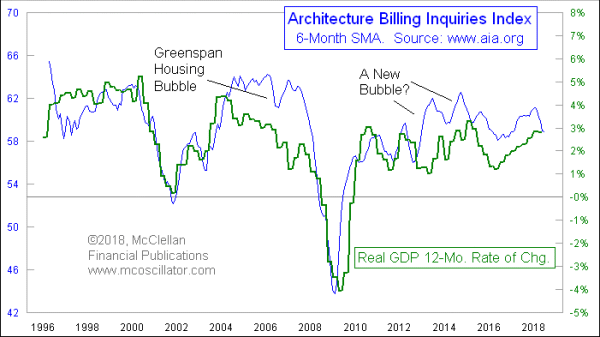 August 24, 2018
Free Chart In Focus email
Delivered to you every week
The news of a 4.1% rate of GDP growth in Q2 of 2018 got the financial media excited. 4.1% was the rate of change compared to the prior quarter. When we use a 1-year lookback, it is not quite that strong of a number, but still good news in terms of what it does to getting more people working and paying taxes.
The troubling news this week is that the latest data from the American Institute of Architects, http://www.aia.org, shows that their Architecture Billing Inquiries Index is headed downward, and that tends to be a problem for future GDP numbers. This week's chart shows a 6-month moving average of that Inquiries Index, and its recent downward movement does not offer a lot of hope for another really strong quarter for GDP in Q3.
The AIA divides their members' survey response data into "Billings" and "Inquiries" subindices. The Billings data are for actual jobs performed for clients, while the Inquiries data refers to possible new jobs being suggested by clients. If the clients suddenly don't want to do any more building projects, then the Inquiries data will dry up.
The one-month reading for their Inquiries Index in July was actually pretty good at 60.5, but the 6-month moving average has been falling. And that is what portends problems for GDP in Q3.
One of the problems for the architects and other building-related trades is that we have just been through a huge blowoff top in lumber prices. Normally the measures of housing market activity like new home sales will lag the movements in lumber prices by about a year. But when prices go to a ridiculous extreme, it can have more immediate effects.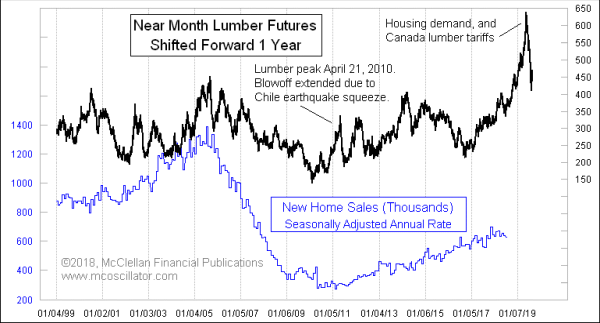 The cost of building a new home zooms up in sympathy with lumber prices, and that's assuming that builders can even source a reliable supply to get a new home built. So it is understandable that a spike in lumber prices would retard building activity. It is less understandable why there would normally be a 1-year lag in the behavior of these data, but history is pretty insistent on that point.
We saw a spike in lumber prices in 2010 after a big earthquake in Chile upset the lumber futures market for a while. That spike did not see an echo a year later in new home sales, because it was not an economic event. It was a market disruption event. Arguably the WTO's approval of a 20% tariff on Canadian softwood lumber is going to turn out to be a similar market disruption event, magnified by the effects of pine-bark beetle infestations in western states and provinces, and now some wildfires. So new home sales do not necessarily have to echo the lumber futures price spike, and arguably the new home sales are being suppressed by that price spike.
All of that feeds into GDP eventually, and that seems to be what the ABI data are hinting at. As the lumber futures market works its way back into a normal mode, the portions of the overall economy which depend on lumber as an input can also start returning to normal.
Tom McClellan
Editor, The McClellan Market Report

Related Charts
Dec 20, 2017

Architecture Billing Index Shows Continued Growth
Jun 10, 2011

Architecture Billings Index Forecasts The Economy
May 24, 2018

A Fresh Look at Lumber and Housing Stocks