Chart In Focus
Copper Weakness Is a Warning Sign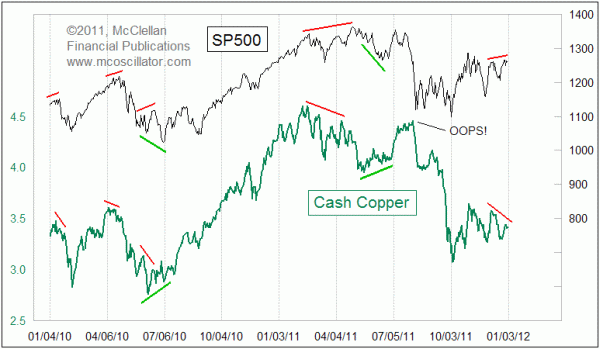 December 30, 2011
Free Chart In Focus email
Delivered to you every week
Back in January 2011, I pointed out that copper prices had in recent years started to track very closely with whatever the stock market was doing. But the key point about that relationship then was that when disagreements appear, it is usually copper that knows what the real story is.
That relationship continues to work to this day, with the two price plots mostly doing the same things, but with divergences usually working out the way that copper says that they should. By that I mean that if the SP500 makes a higher high but copper makes a lower high, that is a bearish divergence with bearish implications for both of them.
It is worth noting that there was a big "oops!" back in July 2011, when copper prices made a higher high as the SP500 made a lower high. In that instance, it turned out that the stock market was right, but copper worked extra hard in the weeks that followed to make up for lost time and to plunge to a lower value. Nothing works all the time.
The higher high for the SP500 going into the end of the year has not yet been matched by a higher high in spot copper prices, and that is a troubling development. But the problem with converting this observation into an actionable and tradable signal is that we never know exactly when such a divergence is actually going to start to matter. Sometimes it happens after just a few days of divergent behavior. Other times, the divergence persists over several weeks before it finally matters.
One other worry is a phenomenon I just shared with readers of our Daily Edition, which is the realization that a lot of currencies seem to undergo reversals around New Year's Day. The end of 2011 arrives with commercial currency futures traders holding a huge net short position against the dollar. Commercial euro futures traders have the biggest net long position in the euro in the entire 12 year history of the reporting of euro futures positions in the Commitment of Traders (COT) Report. Commercial traders are also long the Swiss franc in a big way. Analysis of COT data is something that is featured every Friday in our Daily Edition.
So what this all means is that we have a situation where an upward move for the euro (downward for the dollar) is likely because of what the COT data say, and because of the year end reversal tendency. A big drop in the dollar would be bullish for copper prices, because a cheaper dollar would mean that you would need more dollars to buy a pound of copper. So a potential big currency reversal could push copper prices upward, removing this current divergence between copper prices and the SP500. Accordingly, this relationship will bear watching closely as we move into 2012.
Tom McClellan
Editor, The McClellan Market Report

Related Charts
Nov 04, 2011

Commodities Not The Diversifier They Once Were
Apr 29, 2011

Copper and the Commitment of Traders Report
Jan 07, 2011

The Changing Relationship Between Copper and the Stock Market