Chart In Focus
Dow Stocks' Behavior Says More Uptrend Ahead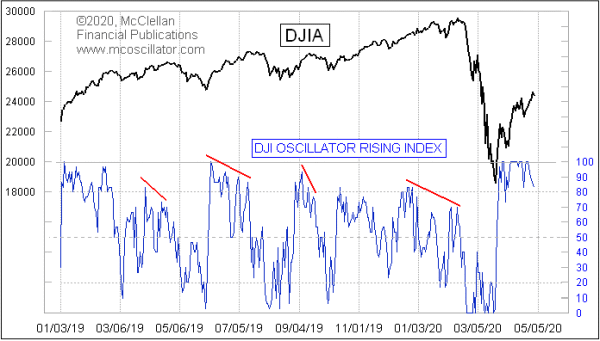 May 01, 2020
Free Chart In Focus email
Delivered to you every week
The market has rallied strongly off of the March 23 bottom, and the enduring question is whether it is a new uptrend, or just a snapback rally. This week's chart argues for more rally yet to come.
The DJI Oscillator Rising Index (DJORI) is something I came up with about 20 years ago. It involves calculating a McClellan Price Oscillator for each of the 30 Dow stocks, and then evaluating whether each one is rising or falling. The DJORI then reflects the percentage of the 30 Dow stocks which have a rising Price Oscillator.
This indicator shows an extended condition when it gets above 80 or below 20. It can go all the way to 100, or to 0. And that is where the important message comes this week. Seeing the DJORI get up to a 100 reading conveys a promise that there is more advance yet to come. Important price tops for the overall market typically only come after a divergent lower high appears.
We do not have one of those yet. The DJORI has been bumping up against the 100 level like a helium balloon bumping against the ceiling. No divergence is apparent yet, and so the implication is that there is not a proper top condition yet to end this rebound rally. Such a condition could soon develop, but it is not here yet.
The DJORI's value is reported every day in our Daily Edition.
Tom McClellan
Editor, The McClellan Market Report

Related Charts