Chart In Focus
GE says Dow's New High is Suspect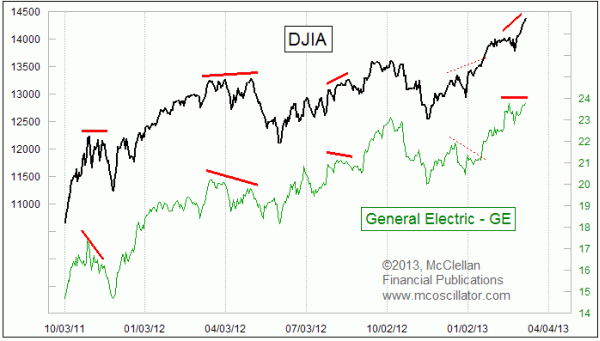 March 08, 2013
Free Chart In Focus email
Delivered to you every week
The financial press have gotten all excited about the new all-time high in the DJIA. But a fascinating non-confirmation in this instance comes from the share price of General Electric (GE).
My late friend Larry Katz introduced me to the phenomenon of GE as a bellwether for the Dow several years ago. He noticed that the two were strongly correlated, which is not surprising since GE is a major industrial and financial company and is a component of the DJIA. But Larry noticed that the correlation is not nearly as interesting as is the fact that when the two disagree it is usually GE that tells the truer story.
But that statement is not always true. At the end of 2012, the DJIA was leaping ahead to higher highs while GE was refusing to confirm. That divergence said that the uptrend was problematic, and that problematic message lasted until mid-January when GE evidently decided that it should go ahead and get on board with the uptrend. Nothing works perfectly every time.
Spring forward to March 2013, and we see that GE has not yet exceeded its Feb. 19, 2013 closing high even though the DJIA has risen almost 300 points higher. Is this another failure like late 2012, or is it instead a more standard legitimate sign of a bearish divergence like most of the rest of the instances in the history of these two price series?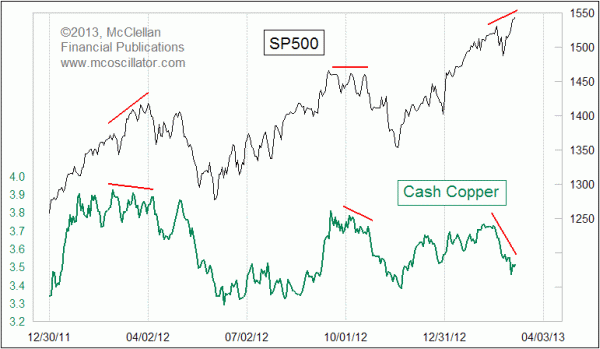 One other price series which is showing a similar divergence now is the price of copper. Before 2007, copper was properly known as the metal with a PhD in economics because of its strong correlation to bond yields and GDP. Since 2007, however, copper has acted much more like a financial asset, with the fascinating property of making divergent top conditions versus the SP500 at interesting places. We are seeing just such a divergence now.
By itself, this divergence between copper and the SP500 could be set aside as an anomaly. But when we combine it with the divergence between GE and the DJIA, it becomes much more of an attention-getting situation, calling attention to the problematic nature of the current multi-year high in the major averages. When these situations appear, there is usually a scary-feeling dip which ensues, and which helps cure the problematic price anomaly. That remains on the agenda for March.
Tom McClellan
Editor, The McClellan Market Report

Related Charts