Chart In Focus
GE's Share Price Has Message For Market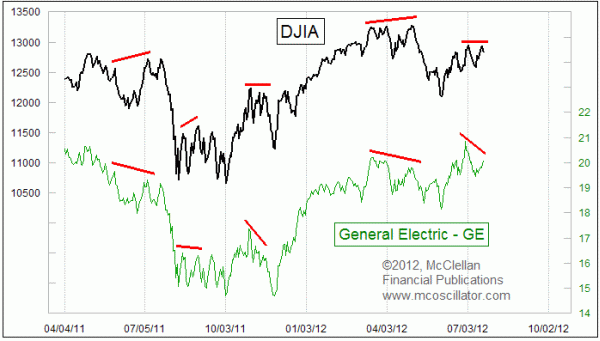 July 20, 2012
Free Chart In Focus email
Delivered to you every week
The term "bellwether" comes from an old middle English word bellewether, which referred to the sheep herding practice of hanging a bell around the neck of a castrated ram (a wether) who would act as a leader of a flock of sheep. You could tell where the flock was by listening for the bell.
It gets used when people talk about the stock market in reference to certain stocks or indicators that can tell us about what the overall market is doing, or better yet what it is going to do.
My late friend Larry Katz introduced me to the idea portrayed in this week's chart, which is to compare the movements of the DJIA to the price plot of General Electric (NYSE:GE). GE is a component of the DJIA, so it understandably has a strong positive correlation to the behavior of the DJIA itself. That is not news, and indeed the correlation itself is not very interesting. It is when we see a difference in behavior that there is useful information.
Larry pointed out years ago that when GE and the DJIA disagree, one should listen to GE. This is especially true at tops. GE's share price was up on Friday, July 20, when it released its quarterly earnings report, showing that revenues were up. But GE's share price is still well below the high that it made back on June 29. That is interesting because the DJIA was able to equal its own prior high, and the SP500 was even able to make a slightly higher closing high.
The divergences highlighted in this chart illustrate how GE is worth listening to when it fails to confirm a higher high for the DJIA. The duration of that message is typically fairly short, calling for a swoon lasting for only up to a few weeks. And once a corrective move does appear in each of these, then the slate is wiped clean and they can start upward again. In other words, once the weakness appears that GE's share price was warning about, then the warning has been fulfilled and it expires.
Readers of our twice monthly McClellan Market Report and Daily Edition know that the eurodollar COT leading indication has been calling for a correction in July. So now that we have GE's share price adding its own note of caution, it appears even more likely that a brief swoon is about to unfold.
Tom McClellan
Editor, The McClellan Market Report

Related Charts
Jul 06, 2012

Relative Strength Can Sometimes Be Too Much of a Good Thing
Feb 03, 2012

Eurodollar COT Indication Calls For Big Stock Market Top Now
Jan 06, 2012

DJI Oscillator Rising Index Signals Trouble