Chart In Focus
T-Bonds Back Down To Uptrend Line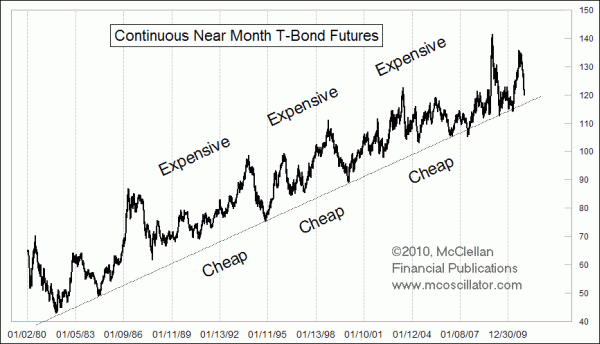 December 19, 2010
Free Chart In Focus email
Delivered to you every week
Back on September 3, I wrote about the overbought condition in T-Bond prices. I noted that bond prices were extended up pretty far above the 30-year long uptrend line, about as far as prices have ever been able to extend.
My, how things have changed since then. Investors have suddenly decided that T-Bonds are not worth owning, despite the fact that the Federal Reserve is actively buying bonds of all different maturities as part of its Permanent Open Market Operations (POMO). The selling has become urgent recently, and has taken the price almost all the way back down to the long uptrend line.
One of the topics I discussed recently for subscribers to our Daily Edition is the way in which Congress has contributed to this selloff. In February 2009, Congress introduced the Build America Bond program, which was intended to make it easier for cities, states, and other municipalities to issue bonds to finance stimulative activities. Unlike normal tax-free municipal bonds, the interest on Build American Bonds is taxable for federal income taxes, but the federal government pays a credit equal to 35% of the interest. The result is that it is cheaper for municipalities to issue these bonds than the old fashioned kind, and they have responded as one might expect.
The Build American Bond program expires at the end of 2010, and so municipalities have been in a rush to get their bonds issued before the deadline. All of that extra supply has caused the bond market to gag, pushing up yields on all sorts of bonds. It has not helped that the Federal budget deficit means that the Treasury Department is adding to that flood of debt coming to the bond market.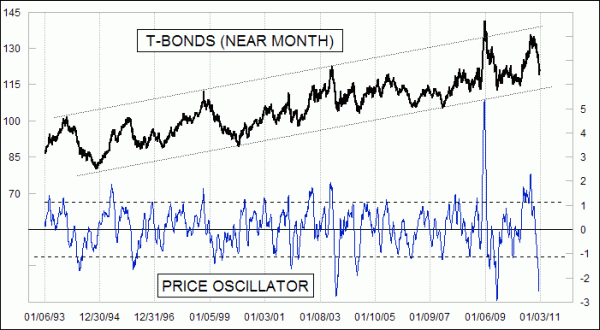 All of this has helped to push down T-Bonds to a remarkable oversold condition. The Price Oscillator for T-Bonds is down to a very low level, so low that we have only seen a reading this deep a couple of other times in the last 2 decades. Each resulted in a robust rebound, once the Price Oscillator turned upward again from those oversold levels. The Price Oscillator just turned up on Friday, Dec. 17, something that I discussed in our Dec. 17th Daily Edition. The Fed's buying coupled with the efforts of "bottom fishers" should help push bond prices back up at least part of the distance of the recent drop.
Tom McClellan
Editor, The McClellan Market Report

Related Charts